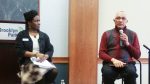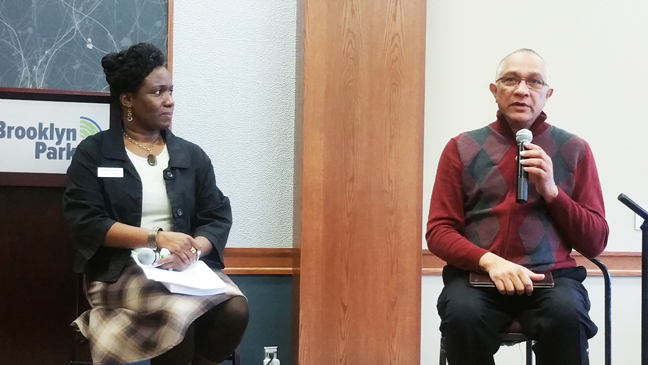 The director of the institutes for research and policy studies at the University of Liberia, Dr. Carl Patrick Burrowes, will speak tomorrow in Brooklyn Park to discuss his new book "Between the Kola Forest and the Salty Sea: A History of the Liberian People Before 1800".
The event which will be held at Hennepin Technical College is organized by the African Career, Education & Resource Inc, Youthprise and Hennepin Technical College. The free event starts at 5:45pm.
Dr. Burrowes, a native of Liberia, became head of the University of Liberia's Institute of Policy Studies and Research in December 2016 and was tasked with the responsibility of improving it "as a think-tank dedicated towards helping to develop policy formulation and practices," according to his appointment letter.
He had stints in various American universities before returning to Liberia. He was Professor of Communications & Humanities at Penn State for at one time. He was the Carter G.Woodson distinguished Professor of Journalism at Marshall University, where he co-founded the Center for the Study of Ethnicity and Gender in Appalachia.
In advance of his talk at Hennepin Technical College, Dr. Burrowes spoke today at a luncheon hosted in his honor at the Brooklyn Park community center by tomorrow's organizers.
At the luncheon, Burrowes said there is a need for unity to be achieved among Liberians in Minnesota before a working coalition can be realized with other African immigrants and the black community in the state.
"How can you achieve that (black coalition) if you (Liberians) are not united among yourselves?" asked the author and university don.
He said he has lost faith in his generation but is hopeful the younger generation's thirst for their history, a subject of his book, will make a difference in society's well-being.
Dr. Burrowes will speak more at length about his book and work at the Friday evening event at Hennepin Technical College.
The event is free and open to the public but registration is required online here.
An Evening with Dr. Burrowes
(Free Event)
Fri, March 31, 2017
5:45 PM – 7:30 PM CDT
Hennepin Technical College
9000 Brooklyn Boulevard, Brooklyn Park, MN 55445

Born and raised in Kenya's coastal city of Mombasa, Tom is the Founder, Editor-in-Chief and Publisher of Mshale which has been reporting on the news and culture of African immigrants in the United States since 1995. He has a BA in Business from Metro State University and a Public Leadership Credential from Harvard's Kennedy School of Government. He was the original host of Talking Drum, the signature current affairs show on the African Broadcasting Network (ABN-America), which was available nationwide in the United States via the Dish Network satellite service. On the show, he interviewed Nobel laureates such as 2004 Nobel Peace prize winner, Professor Wangari Maathai, the first woman from Africa to win the peace prize and heads of states. Tom has served and chaired various boards including Global Minnesota (formerly Minnesota International Center), the sixth largest World Affairs Council in the United States. He has previously served as the first Black President of the Board of Directors at Books for Africa. He also serves on the boards of New Vision Foundation and the Minnesota Multicultural Media Consortium. He has previously served two terms on the board of the United Nations Association. An avid runner, he retired from running full marathons after turning 50 and now only focuses on training for half marathons.





(No Ratings Yet)


Loading...