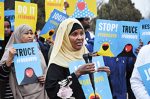 Burnsville, Minn – Nimco Ahmed stood silently at the grave side of her late son, Mohamed Omar Hassan, 25. She prayed for a few minutes and then joined a group of women bussed to the Garden of Eden Islamic Cemetery in Burnsville, Minnesota. Ahmed, like most of the women gathered at the cemetery on a cloudy Saturday evening, lost her child to gun violence in the East African community in Minneapolis.
Shot Dead
The April 6 event marks the launch of "For Hooyoo," an anti-gun violence campaign. Ahmed wept and held back her tears as she explained about how Hassan was killed  on a Wednesday night while waiting in a car. It was about 10:20 p.m. when someone walked to the side window and shot him, police said.
Hassan drove off, heading south on Camden Avenue, but soon crashed into a parked car. Police said he escaped out of the car and collapsed on the sidewalk. He was later pronounced dead at North Memorial Health Hospital. Ahmed's second son was recently left handicapped by gunshot wounds. These days, she says her heart pounds when she hears any ambulance sirens.
"They all know each other. They are like a family. They all play with each other," Nimco Ahmed said about her two sons growing up with other boys around Cedar Riverside. But now, she fears the gripping violence that is taking place in their Minneapolis neighborhood where they all call home. "I didn't even understand now. The thing we need from them is to stop [the violence]."
For Hooyoo
Ahmed is a member of the newly formed group of Somali and other East African mothers whose children have been killed through gun violence in Minneapolis. The Saturday event at the Islamic Cemetery was organized by Daryeel Youth in collaboration with Somali and Oromia mothers to launch their campaign "For Hooyoo," which hopes to minimize gun violence by centering it around the mothers' love for their children.
"For Hooyoo" is urging youths to stop the gun violence that is taking many young lives to the Burnsville cemetery. The campaign is pleading for them to stop for the sake of  their mothers – "Hooyoo." The organizers said they launched this campaign at the Islamic Cemetery to draw the youths' attention to the realities of gun violence  and the countless number of youths laid to rest here.
The mothers want to draw attention to the recent killings and identify strategies to combat what they described as a "public health and safety epidemic." For Hooyoo, the campaign is to promote the positive roles that parents, and young people can play to make their communities safer and free of gun violence.
The Message
"The Somali community continues to be plagued by gun violence with little or no solution to minimize or end gun-related homicides and injuries that are horrifying entire neighborhoods and communities," said Abdirahman Mukhtar, volunteer and founder of Daryeel Youth.
"Somali and East African mothers mourn the most, often raising their children single-handedly. Knowing that many of the youths have love and respect for their mothers, they hope is that this campaign will be a more appealing and effective tool in which mothers can convey their message to young people."
From 2007 when gun violence started to erupt in the East African community in Minneapolis, more than 40 Somali-American youths have lost their lives to gun violence, according to community leaders. Ahmed said they live in fear almost every day, not knowing what would happen to their children at any given moment when the go out from their homes.
"I live in fear," said Nimco Ahmed, whose second son was shot in front of the Somali Mall. "No one born a son and wants him killed… it's painful and fear every day."
It is the same sentiment expressed by the other mothers' present. For them, the only painful thing now is living in fear. "You always have to look around," Ahmed added, as she urges all the youths to stop gun violence now.
Age of Violence
The shootings are mostly driven by cliques and clans, in order words, "gangs," according to Sasha Cotton from the City of Minneapolis Violence Prevention office. Cotton said such  groups are loosely organized in the neighborhood and the shootings are mostly interpersonal and fueled by online rivalries.
"This is not like the olden days … like Crips and Bloods. This is the new thing from social media. We got to unite around peace," said Cotton.
The newly formed office wants to help the community in addressing gun killings but wants the initiatives to come from each community and the type of help they want the City to offer, particularly from the leaders and young people.
"We want the city to mobilize communities. We believe the solutions are there. These requires partnership with the city and community members and our law enforcement … to make sure that young people are safe," Cotton added.
Lost Lives
From January to March this year, seven East African youths have been shot in Minnesota. Two of them killed on the spot, according to Mukhtar. This increase in gun violence worries the mothers present at the launching event. The violence driven by social media encourages young residents to forms gangs without a hierarchy.
"It saddens me as a mother, doing this work and seeing many young people whose lives have been taken. We want to help solve their problem without resolving to gun violence," Cotton said.
She explained that the problems related to gun violence are vast, but poverty and lack of opportunities play major roles. For many of the youths, job opportunities and education give them hope and something to look forward to, "than a reason to die."
For Brother Abdullah, the violence is real, as evidence at the Islamic Cemetery, and has devastated the hearts of mothers present at the launching "For Hooyoo." Abdullah knows the issues and the pain many  mothers are going through. He washed them in accordance with Islamic norms and prayed for them before their burial. He has been doing this for more than fifteen years.
"I have washed all of them. It has been bothering me all these years and I've been speaking out about it," said Brother Abdullah. Adding that many community members have been in denial. "The community is disconnected with the youths."
Like most of the parent present, he hopes the campaign will urge the youths to stop the violence and find ways to help each other in their community.
Editor's Note: This story is part of a reporting partnership between Mshale and The AfricaPaper/Africa Institute for International Reporting (AIIR).
Issa A. Mansaray is a Mshale Contributing writer. He is a strong advocate of press freedom and human rights. Born in Sierra Leone, he has traveled through Africa, Europe, and the U.S reporting on press freedom, and human rights violations. Mansaray is an award-winning journalist and a frequent contributor to the International Press Institute's World Press Freedom Review. He is a graduate of Webster University and the Columbia University Graduate School of Journalism.





(No Ratings Yet)


Loading...