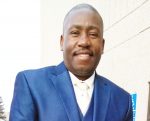 Uplifted Care Services, a home healthcare agency based in Brooklyn Park, announced its sponsorship of the African Awards at the Silver Level on Thursday, making the company the first US based African-owned company to ever join at that level in the 8-year history of the Awards. The company joins major corporations like Target and Comcast in the top-tier brackets of sponsorship.
African Awards and Mshale founder, Tom Gitaa, confirmed that this is the first time a wholly-owned African company based in the US is sponsoring the awards at any of the top categories, defined as Corporate, Gold, Silver and Bronze. Similar African owned companies have to date sponsored at the Community category and below, defined as sponsorship of $3,000 and under.
"Our mission is uplifting one another. We are using our resources to uplift each other, and as the African proverb goes, 'if you want to go fast, go alone. If you want to go far, go together.'" said Bill Akuma, the CEO of Uplifted Care Services, in an interview with Mshale. "We did not know we are the first. We may be the first, but this is only the beginning."
Held annually, the high production value African Awards Gala, produced by Mshale, will take place on Saturday, Oct. 12, 2019, at Target Headquarters in downtown Minneapolis. Target is returning for the second consecutive year as the main sponsor.
The African Awards is a night to showcases African immigrants' stories and celebrate their accomplishments and dedication across the United States. In addition to awards presentation, the evening features a red carpet reception, food and live entertainment.  Last year's guests at the African Awards gala included Kenyan author Ngũgĩ wa Thiong'o and a performance by Soweto Street Beat of South Africa. U.S. Rep. Ilhan Omar, who during the 2018 gala was campaigning for the US House, appeared via video and revealed that her receiving the Community leadership Award at the 2015 African Awards  gave her the encouragement to run for office for the first time. She ran and won a seat in the Minnesota House of Representatives in 2016.
"We're very grateful for Uplifted's support of the African Awards," said African Awards founder Tom Gitaa. "We work hard to fulfill our mission of showcasing the best of what the African immigrant community has to offer, and Uplifted's support will ensure we provide a high quality event, we could not do it without the support of community partners like them and they are setting a good example for other African companies."
Tickets to the 2019 African Awards Gala on October 12 can be found here.
You can view highlights from last year's gala at this link.

Bethel is a general assignment reporter and photojournalist at Mshale. She is based in Atlanta.





(No Ratings Yet)


Loading...