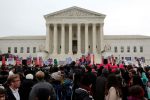 The US Supreme Court today on a 5-4 vote is allowing the Trump administration to deny those who have used public benefits such as Medicaid, food stamps, Section 8 housing assistance or cash assistance from getting green cards. The Trump administration appealed a ruling by the 2nd U.S. Circuit Court of Appeals in New York that had put on hold the administration's policy from going forward.
The administration's win at the Supreme Court means that when one applies for a green card, US immigration authorities can now demand that they prove they will not be a burden to the country or a public charge, even if an immigrant had qualified and legally received public benefits such as Medicaid and food stamps.
Implications
A 2018 study that was done by Boundless when the Trump administration signaled they would propose such a rule, found that 200,000 spouses would not be legally admitted into the country should the rule go into effect.
More than 19 million children, 86 per cent who are citizens, live with an immigrant parent who might not have obtained their green card yet. Many of these 19 million children are on Medicaid and there is now fear that parents who are planning to apply for green cards will not apply for Medicaid for their children, for fear of jeopardizing their green card applications, even though those children qualify for the benefits.
Each year, about 544,000 people apply for green cards and authorities have indicated that 382,000 would fall in categories that will trigger a review on whether they could be a public charge.

Born and raised in Kenya's coastal city of Mombasa, Tom is the Founder, Editor-in-Chief and Publisher of Mshale which has been reporting on the news and culture of African immigrants in the United States since 1995. He has a BA in Business from Metro State University and a Public Leadership Credential from Harvard's Kennedy School of Government. He was the original host of Talking Drum, the signature current affairs show on the African Broadcasting Network (ABN-America), which was available nationwide in the United States via the Dish Network satellite service. On the show, he interviewed Nobel laureates such as 2004 Nobel Peace prize winner, Professor Wangari Maathai, the first woman from Africa to win the peace prize and heads of states. Tom has served and chaired various boards including Global Minnesota (formerly Minnesota International Center), the sixth largest World Affairs Council in the United States. He has previously served as the first Black President of the Board of Directors at Books for Africa. He also serves on the boards of New Vision Foundation and the Minnesota Multicultural Media Consortium. He has previously served two terms on the board of the United Nations Association. An avid runner, he retired from running full marathons after turning 50 and now only focuses on training for half marathons.





(1 votes, average: 5.00 out of 5)


Loading...