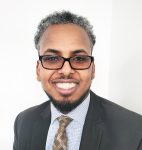 Days before the start of the 2020 early voting for the upcoming first presidential primary in Minnesota, Osman Ahmed, who serves as US Senator Tina Smith's Outreach and Housing Policy Director at the Minnesota office, is stepping down to take a job in the non-profit sector.
His departure will leave Senator Smith's Minnesota office with no person of color in a substantive role unless she hires one.
Ahmed's resignation is effective Friday (Jan.17).
Ahmed previously worked for Senator Al Franken and stayed on when Sen. Smith took over from his former boss. Ahmed's entry into the US Senator's office was his key role in Franken's first campaign as a campaign worker, where Franken won after months of recounting the votes, eventually prevailing with 312 votes. Franken then immediately hired him after assuming office.
In 2018, Ahmed unsuccessfully contested for the Minnesota House District 62A which was won by Rep. Hodan Hassan. During his time as staffer for both Franken and Smith, Ahmed has been a visible presence within the African immigrant community and credited for the popularity the two senators have continued to enjoy within it.
Ahmed was among a handful of African immigrant staffers who work in the offices of Minnesota's congressional delegation.

Born and raised in Kenya's coastal city of Mombasa, Tom is the Founder, Editor-in-Chief and Publisher of Mshale which has been reporting on the news and culture of African immigrants in the United States since 1995. He has a BA in Business from Metro State University and a Public Leadership Credential from Harvard's Kennedy School of Government. He was the original host of Talking Drum, the signature current affairs show on the African Broadcasting Network (ABN-America), which was available nationwide in the United States via the Dish Network satellite service. On the show, he interviewed Nobel laureates such as 2004 Nobel Peace prize winner, Professor Wangari Maathai, the first woman from Africa to win the peace prize and heads of states. Tom has served and chaired various boards including Global Minnesota (formerly Minnesota International Center), the sixth largest World Affairs Council in the United States. He has previously served as the first Black President of the Board of Directors at Books for Africa. He also serves on the boards of New Vision Foundation and the Minnesota Multicultural Media Consortium. He has previously served two terms on the board of the United Nations Association. An avid runner, he retired from running full marathons after turning 50 and now only focuses on training for half marathons.





(1 votes, average: 4.00 out of 5)


Loading...