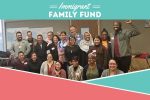 More than 10 community groups that include the Black Immigrant Collective and ISAIAH, have launched the Minnesota Immigrant Families COVID-19 Fund to raise funds to help the state's undocumented community who have been left without access to state and federal economic programs designed to offer relief during the COVID-19 pandemic.
As of May 11, the fundraising which is going on at GoFundMe has raised over $217,000 of a targeted $300,000.
The fund is available to all undocumented individuals or households whose main sources of income is from immigrants who are not eligible for state and federal benefits.
Individuals can apply at this link.
The money can be used to pay for groceries, utilities, pay for DACA or TPS renewals and for short-term partial income loss to COVID-19 among others. Visit this link for further information.
Undocumented immigrants typically do not have social security numbers but instead use what is called Individual Tax Identification Numbers (ITIN) and the IRS takes in billions of dollars of tax payments from these undocumented workers. However, the $2 trillion CARES Act that Congress passed made people who filed taxes with an ITIN ineligible for assistance. Furthermore, US citizens or green card holders who jointly filed taxes with someone using an ITIN, they are also ineligible for the stimulus checks of about $1,200.
Minnesotans of goodwill can make donations to the fund at this link.
To apply for funds, use this link.
The community organizations involved in creating the Minnesota Immigrant Families COVID-19 Fund include: Asamblea de Derechos Civiles- St Cloud Chapter, Asian American Organizing Project (AAOP), Awood Center, Black Immigrant Collective (BIC), Centro de Trabajadores Unidos en Lucha (CTUL), ISAIAH, Navigate MN and National Asian Pacific American Women's Forum (NAPAWF) St. Cloud chapter and Release MN8.

Born and raised in Kenya's coastal city of Mombasa, Tom is the Founder, President and Publisher of Mshale. As the founder, he did a lot of the reporting during the humble beginnings of the newspaper. While he still does the occasional reporting, he now concentrates on the publishing side of the news operation. Tom was also the original host of Talking Drum, the signature current affairs show on the African Broadcasting Network (ABN-America), which was available nationwide in the United States via the Dishnetwork satellite service. On the show, he interviewed Nobel laureates such as 2004 Nobel Peace prize winner, Professor Wangari Maathai, the first woman from Africa to win the peace prize and heads of states such as the president of The Gambia, Yahya Jammeh at State House, Banjul. Tom has served and chaired various boards including Global Minnesota (formerly Minnesota International Center), the sixth largest World Affairs Council in the United States. He has previously served as President of the Board of Directors of Books for Africa, the largest shipper of donated books to Africa. He also serves on the boards of New Vision Foundation and the Minnesota Multicultural Media Consortium. Tom also served two terms on the board of the United Nations Association. He retired from running full marathons after turning 50 and now only focuses on half marathons.





(1 votes, average: 5.00 out of 5)


Loading...