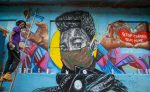 Harvard University's Center for African Studies on May 27 hosted a webinar on the African continent's response to COVID-19.
The discussion, hosted by Dr. Wafaie Fawzi an epidemiologist and professor at Harvard T.H. Chan's School of Public Health, featured four African leaders in public health, epidemiology and virology.
Panelists shared their analysis on Africa's low caseload and the steps that need to be taken to further contain the pandemic.
As it stands Africa has maintained the lowest number of confirmed cases of COVID-19 with figures just above 100,000 in the continent's 54 nations.
"COVID-19 crisis has brought the best out of Africa," Dr. John Nkengasong said. Nkengasong is a virologist who serves as the director of Africa Centers for Disease Control and Prevention. He credits the low infection rates on swift responses taken by African leaders to ensure the minimal spread of the disease.
"There was a great deal of work to prepare for the pandemic before the virus arrived in the continent," Dr. Matshidiso Moeti said.
Moeti, a physician and public health administrator is the first female elected as a director of the World Health Organization's (WHO) Africa region. As the pandemic spread globally, a lot of African nations had time to prepare before their countries were hit with the virus.
Dr. Ebba Abate, the Director General of the Ethiopian Public Health Institute (EPI) pointed to Africa's demographics as a possible contributing factor to the low number of cases. Over 60 percent of the African continent is under the age of 25 with 30 percent of individuals under the age of 9. COVID-19 has left children largely unaffected and young adults suffering mild symptoms.
Dr. Peter Lamptey, a professor of noncommunicable diseases at the London School of Hygiene and Tropical Medicine, projected the number of cases to significantly increase with widespread testing.
Cynthia is a graduate of the University of Minnesota School of Journalism. She has interned at Mshale and Voice of America and previously worked at the Minnesota Daily. She recently returned from Seoul, South Korea where she was an English educator.





(No Ratings Yet)


Loading...