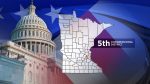 20 years ago, I fled my birth country of Liberia during a civil war. I left my loved ones to provide for them in America because I knew there was hope and opportunity here. Since then, I have been able to build a life for myself in the country I now call home. I have worked as a caregiver for 4 years with Dungarvin, and with Wells Fargo as a Home Lending Team Lead/Executive Office Team Lead for 15 plus years, building a life and home for myself in the 5th District of Minnesota.
My story is not uncommon. It's the American Dream—people fleeing oppression seeking a better life and a home here. It's also Ilhan Omar's story—a woman who fled the Civil War in Somalia and worked her way through school and college to become the first African-born person ever elected to the United States Congress.
I was able to stay and work in this country because of Deferred Enforced Departure (DED)—even though it provided no path to legal status or citizenship for us. Last year, Donald Trump threatened thousands of Liberian Americans with removal from this country by threatening not to renew DED. (Minnesota is home to the largest community of Liberian Americans of any state in the nation.)
As soon as she was sworn into office, my Congresswoman, Ilhan Omar took our case on as if it was her own. She had multiple staff working to ensure that DED did not expire, worked with the Minnesota delegation on multiple letters to the administration, and held multiple public events calling for an extension. She reached out and invited me to join her as a guest at the first State of the Union speech she attended—as a physical reminder that immigrants make this country great. She introduced me to House Speaker Nancy Pelosi to make my case directly, along with local and national journalists to help cover the fight. (The issue wasn't getting very much political attention at the time, but Ilhan used her public profile to draw attention to it, both nationally and here in Minnesota.)
Eventually, as a result of her advocacy, Trump delayed his threat to remove us. And at the end of 2019,  Rep. Omar helped enshrine this into law—passing an amendment ensuring that Liberians would be protected from deportation in Minnesota and across the country.
This is not the Ilhan Omar you'll read about often. But it is the kind of representative Ilhan Omar is: someone who fights on behalf of all marginalized people as if they were her own. Someone who knows that you can fight for transformative change on a global level and fight for transformative change for your constituents' lives.
At a time when the President threatens to "send us back" to where we came from or calls our countries of origin "shithole countries," Ilhan represents those identities and proudly fights on behalf of people who share them. She has gained prominence not because she seeks it, but because she is willing to fight for what she believes in.
I know there are countless other Minnesotans like me who have similar stories—people whose lives have been changed in ways big and small by Ilhan's representation and advocacy. And I know she will continue to fight for us if we "send her back" to Congress where she belongs.
Linda Clark of Minneapolis is a banker and beneficiary of the Liberian Refugee Immigration Fairness (LRIF) enacted on December 20, 2019 to provide a pathway to citizenship for Liberian nationals.





(3 votes, average: 5.00 out of 5)


Loading...