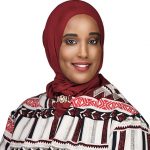 Public health professional Sahra Odowa is ready to be a policy maker. The DFL endorsed Shakopee resident is vying for a seat in the Minnesota Senate representing District 55. Odowa is facing two term incumbent Eric Pratt of the Republican party.
Odowa, who holds a master's in Public Health was inspired to run for office through her experience working as a mental health professional. "I have been able to work in the community and I have seen a lack of services in mental health," she said.
Greater accessibility to mental health services and expanded healthcare coverage are at the top of her campaign list. Odowa would like to ensure that all residents have access to Medicare and that essential workers' health and safety are also a priority as the COVID-19 pandemic continues.
Essential workers continue to be at the frontlines of the pandemic risking contracting the virus daily. Amazon, an e-commerce tech giant based in Seattle is one of Shakopee's largest employers. The company came under scrutiny this summer after reporting a high number of COVID-19 cases amongst its employees in its Shakopee fulfillment center.
Another major focus for Odowa's campaign is that of affordable housing. Odowa not only wants increased access to affordable housing but that homes that are accommodating to larger families are more readily available.
"District 55 is a growing district," she said. Odowa has witnessed growth in infrastructure, diversity, and businesses since moving to Shakopee six years ago with her family. Minnesota's 55 District located south of the Twin-Cities, comprises the Shakopee, Jordan, and Prior Lake, suburbs surrounded by various townships.
Odowa began her campaign last year with a team of four. A figure that has since grown five times as volunteers joined the campaign. Prior to the pandemic Odowa's team took on canvassing, phone banking, and volunteering. One of their volunteer efforts was time spent along the highway in Jordan Minnesota to pick up litter. This act of service gave Odowa an opportunity to speak with and connect with local farmers in town.
"The environment was so peaceful," she recalled. "We just had a lot of conversations about investing in our local farmers".
After living in District 55 for six years, Odowa enjoys the agricultural scene the most. "My favorite aspect is the farms," she said.
Prior to the lockdown Odowa loved the accessibility to the Farmer's market she had in Shakopee. Part of her campaign promise is to ensure that local farmers receive the support they need to carry out their work by investing in the agricultural scene. Odowa also plans promoting sustainability measures that protect and preserve the environment if elected.
Looking ahead into the future, Odowa has a vision of unity, equality, and sustainability for District 55.
"In the next five years, I would like to see a more unified district, I would like to see a district that is sustainable on all aspects of our livelihoods, providing a wide range of services in our district," she said.
Early voting begins September 18
All voters in Minnesota can start early voting in-person or by mail starting September 18 for the November 3 election. Vote by mail is being encouraged by election officials.
You can apply for your absentee ballot at mnvotes.org.
Cynthia is a graduate of the University of Minnesota School of Journalism. She has interned at Mshale and Voice of America and previously worked at the Minnesota Daily. She recently returned from Seoul, South Korea where she was an English educator.





(2 votes, average: 4.00 out of 5)


Loading...