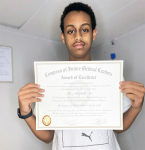 The coronavirus pandemic has posed many challenges for students in pursuance of their goals. However, students like Abdullahi Nor continue to strive for excellence even in the face of adversity. Recently, Abdullahi Nor received the Congress of Future Medical Leadership Award by The Congress of Future Medical Leaders and the National Academy of Future Physicians and Medical Scientists.
This prestigious award is granted to extraordinary students who display outstanding academic achievement, along with interest and leadership potential in the field of medicine.
This organization is owned by New Charter University of Salt Lake City, UT. According to its website, the organization explains its mission and why it was founded. "It was founded on the belief that we must identify prospective medical talent at the earliest possible age and help these students acquire the necessary experience and skills to take them to the doorstep of this vital career."
"Don't follow the crowd because they will not take you anywhere; follow your desires," said Nor. He dedicated several years of his academic life to qualify for this highly-competitive award. "Surround yourself with people who will lift you up instead of putting you down, surely you will succeed," he reflected.
Nor, 17, was born to Somali immigrant parents in Minneapolis. Currently, he is a junior at South High School in Minneapolis. He also works part-time at the Cedar-Riverside Opportunity Center. He's been with the center for the past three years.
The manager at the Opportunity Center, Saeed Bihi, is inspired by Nor's personality and love for his work. "Nor is a young guy who loves his job," he said. "He also loves to help everyone."
The hardworking of this young student doesn't just end here. On weekends, Nor volunteers at Rawadah Community Center, a non-profit organization located in Seward, South Minneapolis. He tutors other young immigrant students who aspire for the same excellence.
"Nor is a living and breathing example for his generation and all the young students around him," said Abdirizak Sancaani, the Imam of Rawadah Community Center. "He is an outstanding tutor and volunteers for the community every weekend," he further added.
Nor who lives with his parents and seven siblings, two girls and five boys, is the second born and makes up their family size 10 in total. Just like most American children of immigrant parents, Nor and his siblings had to go through their share of struggles and hardships. While growing up, they had to face challenges such as speaking and learning English, fitting in a culture quite different from their own, securing housing and work, accessing service, transportation, raising children, and helping them succeed in school. Deeq Nor, Abdullahi's father, works a small shop in Karmel Mall, where Shukri Farah, Abdullahi's mother, is at home all the time busy taking care of her children in their everyday life activities such as feeding, reading, eating, sleeping, and cleaning.
"I am very proud of my son," Shukri Farah, Abdullahi Nor's mother, said. "He is not only curious, but he also likes to read, and that's what makes him different."
Nor overcame all the challenges in his life with integrity and hard work. "I would always listen to my parents and teachers," Nor said. Listening to experienced people is almost always very beneficial." He attributes his success to Allah's mercy and guidance. "Allah has guided me, and He has always been there for me through thick and thin," Nor said.
He also expressed appreciation for his parents and the extended community that helped him along the way. "A lot of people helped me through this journey, my parents were there with me since the first day that I started school," he said. "They were my guidance. Whenever I had a question, I would always go to them and ask. I love my parents, who sacrificed everything to give their children a better life." he added.
Nor also credited his success to all the teachers that were a part of his journey. "The different teachers I had throughout my whole career shaped me into the person that I am today," he said. "They always knew what was good for me, and they always believed that I could achieve anything. They had higher expectations for me than my classmates." Nor further added, "I'll always be grateful to my teachers for holding me accountable in everything and knowing what all I could achieve someday. They expected nothing but excellence."
Nor is an inspiration for many, and a fine example of achieving excellence through utmost dedication and hard work. Lastly, Nor addressed students who want to follow in on his footsteps, "Ask yourself one question," he said. "Do you want to be in the Medical field? if your answer is 'yes,' then how much are you willing to work and sacrifice to become the best in the field?"

Mshale Contributor Mohamud Farah Dulyadeyn is the host of Wacyi Show for Somali Cable TV. He is an alum of Metropolitan State University, where he majored in journalism.





(2 votes, average: 5.00 out of 5)


Loading...