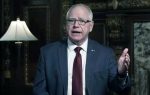 Minnesota Gov. Tim Walz last night (Nov. 18) in a statewide-televised address unveiled new restrictions that go into effect on Friday, November 20 aimed at curbing the skyrocketing numbers of Covid-19.
"Much has been asked of you. And I need to ask a little more," Gov. Walz said during the televised address.
Bars and restaurants will close for four weeks and can only offer takeout and delivery while gyms, bowling alleys, theaters, and museums will be required to close their doors completely during the four-week period. Youth and high school sports are also being paused during the four-week period. College sports are not affected by the new order, as are professional sports.
The governor's new tough measures come in the wake of the new Minnesota Department of Health data that shows hospitals, including their ICUs are at capacity mostly with coronavirus patients as hospitalizations and deaths climb. Hospital administrators have been urging the governor to invoke the new measures so the hospital systems can cope. Thousands of medical staff have also been infected with Mayo Clinic announcing that 900 of their staff have been infected creating a staffing nightmare.
Most COVID-19 outbreaks since June have been traced to bars and restaurants, wedding receptions, gyms and sporting events. Bars and restaurants alone accounted for 3,200 cases since June while wedding receptions contributed 950 of the climbing numbers.
Minnesotans are also required to adhere to restrictions on private gatherings by restricting gatherings to those from their immediate household.
To continue operating
Retail stores, places of worship will continue to operate under previous guidelines because state health officials have said previously that these sett8ngs are not contributing to the spread because Minnesotans spend less time there and they wear masks.
Salons can also continue operating under the existing COVID-19 guidelines.
Governor Walz hailed the new COVID-19 vaccinations announced recently by Pfizer and Moderna saying they should give people hope that restrictions like the ones he announced will become unnecessary in the near future.
"We've got a light at the end of the tunnel. I believe with every fiber of my being that there's an incredibly strong possibility, more like a probability, that we will be vaccinating people before the end of this four-week pause in our long-term care facilities and our frontline health care providers," he said. "We can do this, Minnesota. We can get this right."
Those caught violating the governor's executive orders could face a $1,000 fine or up to 90 days in jail.





(1 votes, average: 5.00 out of 5)


Loading...