President-elect Joe Biden on Monday made two historic appointments as he prepares to take over the White House. Biden announced the nomination of Janet Yellen as his Treasury Secretary, making her the first woman to hold that position if confirmed. Biden also named Adewale Adeyemo as his nominee for Deputy Treasury Secretary. Adeyemo will become the first Black person to serve in that role and the highest-ranking African immigrant in the Biden-Harris administration, and possibly in any administration thus far.
39-year-old Adeyemo who goes by Wally was born in Nigeria. He currently serves as the Obama Foundation president. He moved to the United States with his parents when he was just "a baby," according to the New York Times. He grew up in Southern California where his father was a teacher and mother a nurse. Adeyemo and his two siblings, a younger brother and sister, grew up sharing a two-bedroom apartment.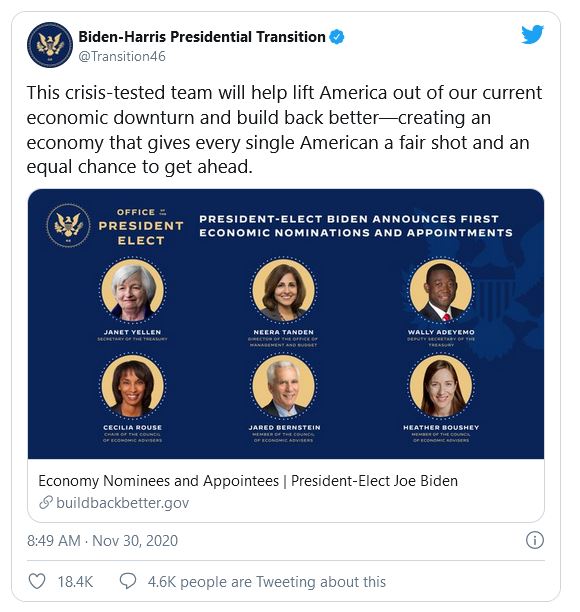 Prior to joining the Obama Foundation, he had been president Obama's senior international economic advisor after Obama had appointed him deputy national security advisor and deputy director of the National Economic Council. In that role, he was responsible for coordinating the policymaking process on international finance, trade and investment, energy, and environmental issues, according to a profile of him by the Center for Strategic & International Studies, a Think Tank that he advises.
Adeyemo received his undergraduate degree from the University of California at Berkeley and a Juris Doctor from Yale Law School.
"This crisis-tested team will help lift America out of our current economic downturn and build back better—creating an economy that gives every single American a fair shot and an equal chance to get ahead," the Biden-Harris transition team tweeted after Biden announced the members of his economic team.

Tom is the President and Publisher of Mshale and chair of the Minnesota Multicultural Media Consortium (MMMC). As Mshale founder, he did a lot of the reporting during the humble beginnings of the newspaper. While he still does the occasional reporting, he now concentrates on the publishing side of the news operation.Tom was also the original host of Talking Drum, the signature current affairs show on the African Broadcasting Network (ABN-America), which was available nationwide in the United States via the DishNetwork satellite service. On the show, he interviewed Nobel laureates such as 2004 Nobel Peace prize winner, Professor Wangari Maathai, the first woman from Africa to win the peace prize and heads of states such as the president of  The Gambia, Yahya Jammeh at State House, Banjul. Tom has previously served in the board of directors of Global Minnesota, the sixth largest World Affairs Council in the United States. He has also previously served as President of the Board of Directors of Books for Africa, the largest shipper of donated books to Africa and. He sits on the board of the United Nations Association.





(1 votes, average: 5.00 out of 5)


Loading...