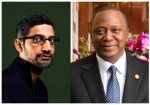 Google Chief Executive Officer Sundar Pichai announced Wednesday that the American tech giant will make a $10 million grant to help Kenya's economy recover from the downturn related to the coronavirus pandemic.
Pichai made the pledge during a virtual meeting with Uhuru Kenyatta, the East African nation's president.
"As economies begin to reopen from a tough 2020, recovering from the pandemic, we see opportunity to support governments, to help businesses, people who are looking for jobs, and communities recover," Pichai said. "Today, I'm excited to announce a $10 million (1.1 billion Kenyan shillings) for economic recovery."
Although the African continent has been largely spared by the coronavirus, long shutdowns to curb the spread of the pandemic have taken a heavy toll on economies that were already struggling. With a population of 52 million people and a GDP of $95.5, Kenya is one of the largest economies in Africa. It has recorded over 100,000 cases and 1,751 deaths. Last week, Kenyan scientists announced that they had identified a new coronavirus strain in the country, which could complicate recovery. But if used wisely and as Google mandates, the $10 million grant could make a significant impact on the recovery of the country, where the per capita income is $1,816.5, according to 2019 World Bank data.
Pichai said the $10 million would be divided into three separate grants. The first $2 million will go to Kenyan nonprofit organizations that work in underserved communities. Small and mid-size enterprises (SMEs) will get $3 million. The remaining $5 million will go towards supporting technology startups.
"I have always felt Kenya as being very entrepreneurial and willing to drive technology and innovation," Pichai said.
He said the grant was "just a beginning" and that he looked forward to "announcing more in the coming months."
President Kenyatta said access to digital technology in Kenya had grown exponentially in the last 20 years. Because of that growth, 95 percent of Kenyans now have access to financial services mostly via their mobile devices. Twenty years ago, only 30 percent of the population had a bank account, and everyone had to stand in long queues to in banks to conduct financial business, Kenyatta said. He promised to continue to invest in the sector. The president added, however, that Kenya hadn't seen the full impact of technology in driving economic growth.
"Now we need to work together [with Google] to see how we can translate that into economic opportunity for our people," Kenyatta said, "how they can link small and mid-size enterprises that are the backbone of our economy to global markets. This is really where the future lies."
This is not the first time Google has given money to Kenya, according to Pichai. In September, the tech giant gave $1 million to help the economic recovery of Kenyan women who had lost income due to the pandemic. The company also started a digital hub to help 300,000 Kenyan SMEs build online presence to take advantage of the growing trend in online commerce. Google has also been working to make remote learning successful in Kenya, Pichai said.
"Society has made huge strides on connectivity and it's a trend around the world," Pichai said. "Covid has really accelerated digital trends by years, and online digital has been a lifeline for many businesses around the world."
Kenyatta's and Pichai's meeting was organized by the Corporate Council on Africa, a Washington, D.C.- based organization that aims to strengthen trade and commercial ties between the continent's economies and the United States. It was moderated by Kenyan journalist and former CNN news anchor, Zain Varjee.
Edwin Okong'o is a Mshale Contributing Editor. Formerly he was the newspaper's editor.





(1 votes, average: 5.00 out of 5)


Loading...