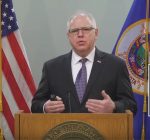 Governor Walz on Thursday said those with serious pre-existing health conditions that puts them at risk of fatal COVID-19 infections are next line as a priority group to get the vaccine.
The governor made the announcement during a press conference to brief the state on the latest vaccine plans. Vaccine supplies from the federal government continue to be in short supply although the state did announce early this week that at least one million Minnesotans have received at least one shot of the two dose vaccines.
The current priority group for the state are health workers, educators, child care providers, seniors and people living or working in long-term care. Seniors have been a priority because they have accounted for 89 percent of the COVID-19 deaths.
"We set out to protect the most vulnerable Minnesotans, and we are honoring that commitment," Walz said.
Governor Walz and state health commissioner Jan Malcolm said in the short term, the current priority groups will continue to be the priority but vaccinations will start for others after the priority groups, especially seniors, have received their shots.
In the press conference monitored by Mshale, this is what we gathered from the governor and state health officials:
After seniors have received their shots,
Early spring: vaccinations will be opened up to those with serious pre-existing conditions like sickle cell, Down Syndrome, chronic lung and heart conditions and those who may be undergoing cancer treatments. The early spring group will also include essential workers in food processing plants.
Late spring: Vaccinations will be open to those between 45-64 with pre-existing conditions that are not as risky. Next after this group are those aged 16 and over with underlying health conditions.
The late spring group also includes those aged 50-64 regardless of health condition, this group will come after those with preexisting conditions have had their vaccine.
Summer: This is when vaccinations will be open to the general public.
Minnesota Vaccine Connector – Know when it is your turn
Last week we covered the unveiling of Minnesota's Vaccine Connector, which is a new tool the state has launched to help those who register know when its their turn to get vaccinated. It is also the state's attempt to distribute the vaccine more equitably as communities of color are falling behind and are not receiving the vaccine at the same rate as whites.
You can register at mn.gov/vaccineconnector or by calling 1-800-657-3504.
Below is a graphic from the state that shows the prioritization flow of the vaccine going forward.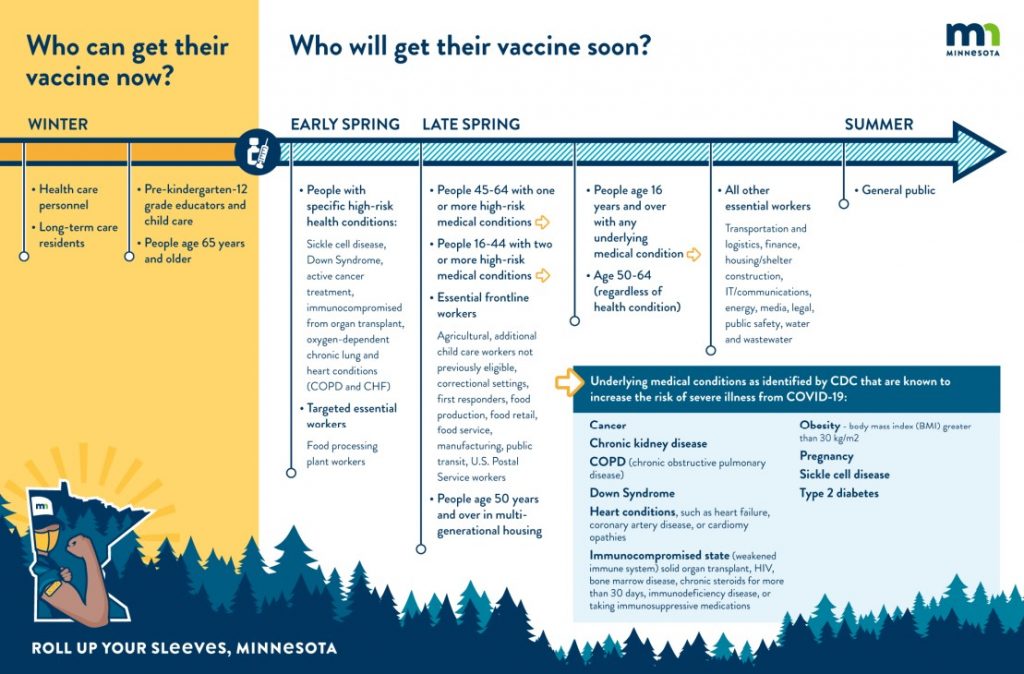 (No Ratings Yet)


Loading...