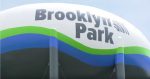 As Brooklyn Park voters enter the final week of the special primary election campaign for mayor, early in-person voting and mail-in absentee voting has been off to a slow start.
Just 487 people had voted as of Wednesday afternoon (March 31), according to the city clerk Devin Montero. When polls opened in last November's general election, the city's 24 precincts had 47,520 registered voters. In terms of population the city is Minnesota's sixth largest.
There are seven candidates on the ballot for the April 13 special primary election. Three of the seven currently serve on the city council and one is a former council member.
As of this writing, the candidates have had two candidate forums, which you can watch here and here.
The mayor's seat became vacant after former Mayor Jeff Lunde was elected to the Hennepin County Board of Commissioners last November.
How to vote before the April 13 special primary election
Through April 12: You can vote in-person at City Hall, Monday through Friday between 8am-4:30pm. City Hall is at 5200 85th Ave. N.
Saturday voting in-person: If you can only vote in-person on a Saturday, you can do so on Saturday, April 10 from 10am to 3pm.
By mail: If you have not already mailed your ballot, you might want to do that as soon as possible, ideally by April 6 because of the well-publicized postal challenges. If you have not already downloaded and filled out your ballot, you can do so at this Brooklyn Park city website.

Born and raised in Kenya's coastal city of Mombasa, Tom is the Founder, Editor-in-Chief and Publisher of Mshale which has been reporting on the news and culture of African immigrants in the United States since 1995. He has a BA in Business from Metro State University and a Public Leadership Credential from Harvard's Kennedy School of Government. He was the original host of Talking Drum, the signature current affairs show on the African Broadcasting Network (ABN-America), which was available nationwide in the United States via the Dish Network satellite service. On the show, he interviewed Nobel laureates such as 2004 Nobel Peace prize winner, Professor Wangari Maathai, the first woman from Africa to win the peace prize and heads of states. Tom has served and chaired various boards including Global Minnesota (formerly Minnesota International Center), the sixth largest World Affairs Council in the United States. He has previously served as the first Black President of the Board of Directors at Books for Africa. He also serves on the boards of New Vision Foundation and the Minnesota Multicultural Media Consortium. He has previously served two terms on the board of the United Nations Association. An avid runner, he retired from running full marathons after turning 50 and now only focuses on training for half marathons.





(1 votes, average: 5.00 out of 5)


Loading...