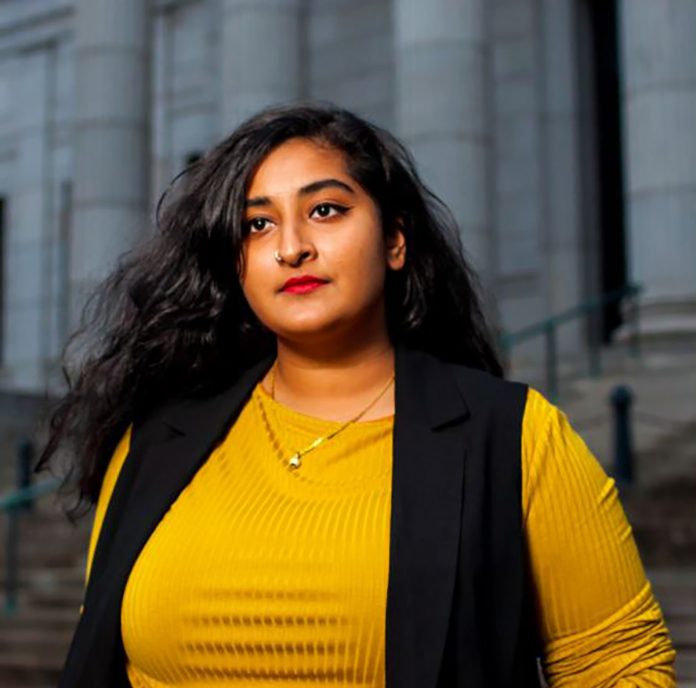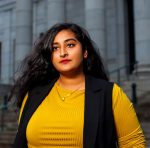 Aisha Chughtai, a community activist and organizer who was once Rep. Ilhan Omar's campaign manager, is now on a quest to curve out her own political career.
The 23-year-old daughter of Pakistani immigrants is running to represent Ward 10 in the city council. The incumbent, Lisa Bender, is not seeking reelection.
Minneapolis' tenth ward, also known as Uptown, includes some of the city's trendiest neighborhoods. The ward is home to boutiques, coffee shops, restaurants, bars, as well as Victorian homes designed by famous architects in the ward's historical parts. The city has seen growth and change in the last few years with increasing diversity and population.
"I decided to run because I know that my community in Minneapolis is one that really needs to make sure that we are prioritizing the voices of those who are most impacted by our decisions," Chughtai said.
Chughtai is running on a platform highlighting issues in public safety, affordable housing, and worker's rights among others. She considers the challenge of affordable housing to be the most pressing one.
"I think the most critical piece is the housing," she said. "We need to make sure people stay in the communities they love."
As COVID-19 governmental restrictions and protections are due to be lifted, Chughtai said she wanted to ensure that renters were able to receive protection from post pandemic evictions.
In the state of Minnesota, it can take less than a month for an eviction to be processed from start to finish.
For Chughtai, the issue of housing instability is personal. She recalls many middle- and working-class families, including hers, moving from place to place in search of affordable housing in southwest Houston, Texas, where she spent her childhood.
"I remember moving from apartment to apartment every three months," she recalled.
Chughtai grew up in a middle-class home with a mechanic father and a mother who was a Quranic instructor.
The family moved to Minnesota at the beginning of the global recession in 2008 after a work-related injury forced her father to pursue higher education in order to switch careers. Her parents moved to southern Minnesota, in the Mankato area, where they currently reside.
Affordable housing was what originally drew Chughtai to the ward five years ago, she said.
"I moved to this community because it was one of the only places in the city that I could afford to live," she said.
In 2016 Chughtai moved to the Twin-Cities from Mankato after enrolling at the University of Minnesota. It was during that year that she realized her passion for advocacy and community organizing. She suspended her studies at the University of Minnesota to pursue a full-time career as an organizer.
"I feel really lucky that I found the thing that I wanted to do really early in life," she said.
Chughtai has since worked in a series of campaigns, including serving as Congresswoman Omar's campaign manager, campaigning for local candidates as well as Vermont Senator Bernie Sanders in his presidential bid.
Chughtai currently works for Service Employee International Union (SEIU) as a political organizer advocating for worker's rights.
In the five years that she has been a resident in Ward 10, Chughtai said she has witnessed the ward struggle with affordable housing for its low-income residents. This issue has been exacerbated by the COVID-19 pandemic, as well as the protests that followed the murder of George Floyd by a Minneapolis police officer almost a year ago.
"I think we're also incredibly resilient people," Chughtai said.
In the past year, she has witnessed her community uniting to ensure that individuals are still able to obtain essential items and food.
"It's hard but we took care of each other," she said.
During the height of the protests, the ward's shops that were once accessible by walking or public transportation closed. If elected to office, Chughtai promised to take immediate action on housing.
"If I'm lucky enough for my community to choose me, there's a lot of immediate work we need to do on protecting tenants right away," she said.
Chughtai said she plans to work on policies that improve the quality of life for everyone in the city.
"I want us to live in a world where everyone has the things they need to survive," she said.
Despite the challenges that the city has faced, Chughtai considers Ward 10 home for herself and enjoys the inclusiveness and diversity.
"I love that this is a place of belonging for people," she said.
The city of Minneapolis' municipal elections are scheduled to take place on Nov. 2, 2021, with early voting expected to begin on Sept. 27.
Candidate website: www.aishaforward10.com
Cynthia is a graduate of the University of Minnesota School of Journalism. She has interned at Mshale and Voice of America and previously worked at the Minnesota Daily. She recently returned from Seoul, South Korea where she was an English educator.





(1 votes, average: 5.00 out of 5)


Loading...