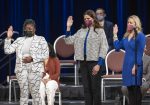 Minneapolis held a low-key but historic inauguration for its new City Council on Monday, January 10, 2022. The ceremony featured newly re-elected Mayor Jacob Frey, City Council Members and members of the Board of Taxation and Estimates. It was an historic occasion as for the first time in the history of Minneapolis, people of color are the majority in the 13-member council. Eight of the 13 members are people of color.
Council members in a historic move elected Andrea Jenkins as the council president, becoming the first openly transgender Black woman to take the post. Jenkins represents Ward 8 where George Floyd was murdered by former Minneapolis Police officer Derek Chauvin.





(1 votes, average: 5.00 out of 5)


Loading...