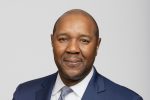 TCF Financial Corp. has announced that Darrel German will be the regional president of its Minnesota region. German will lead the Middle Market team and be responsible for all TCF business activity in the Twin Cities and throughout Minnesota, according to a news release from TCF.
German has more than 30 years of banking and financial services experience, including 15 years dedicated to commercial banking. His time in the banking and financial services industries overlapped with his 33 years in the United States Army, from which he retired in 2016 as Colonel.
"We are thrilled to have Darrel join TCF as our regional president in the Twin Cities. He will continue in this role following our merger with Huntington, which is expected to close late in the second quarter, pending regulatory approvals," said Mike Jones, president and chief operating officer, TCF Bank. "German has extensive experience successfully entering new markets, building highly effective teams, and developing and executing strategies that result in profitable growth in market share."
"TCF has a long history of serving customers in the Twin Cities, and we see enormous opportunity in this market to help middle market businesses succeed — whether that be working capital lines of credit, acquisition financing, or services to improve operational efficiencies," said German. One of the things that drew me to TCF is its commitment to customers, team members and the community. I am proud to be a part of this stellar team."
In the Minneapolis/St. Paul metro area, TCF is the fourth largest bank with $8.5 billion in deposits and employs 2,700 employees, naming it among the top-50 largest employers in the state.
TCF Bank and Huntington Bank are in the middle of a merger that is scheduled to complete in the summer.
After the merger, the name TCF will disappear and become Huntington Bank.
In addition to branches' names changing, among the most visible change to Minnesotans will be TCF Bank Stadium whose name will change according to a December 2020 story by the Minneapolis/St. Paul Business Journal.
The Business Journal quoted Steve Steinour, president and CEO of Huntington, as saying
"We're going to take the name from TCF to Huntington," he said. "I believe that contract facilitates the name change."
Mr. German's role as regional president will be unaffected once the merger is complete.

Bethel is a general assignment reporter and photojournalist at Mshale. She is based in Atlanta.





(No Ratings Yet)


Loading...