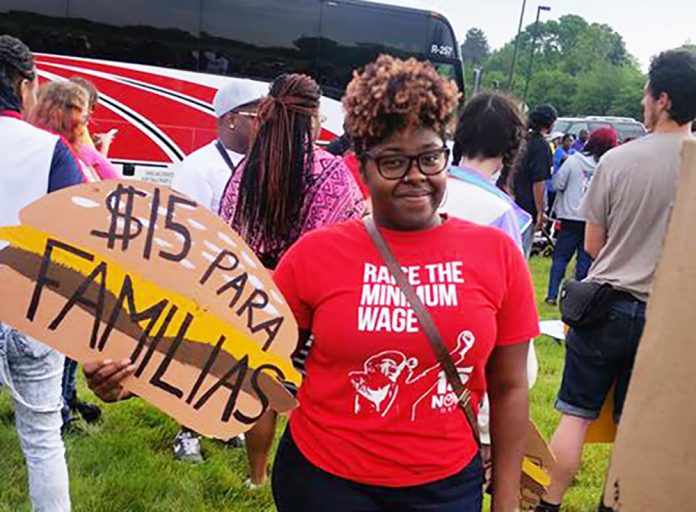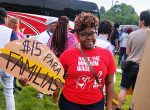 Robin Wonsley Worlobah is ready to take her activism into public office. The 29-year-old Chicago native and community organizer is running to represent Ward 2 in the Minneapolis City Council.
Ward 2 covers the eastern part of Minneapolis, and spans both the east and the west banks of the Mississippi river. The ward is home to some of Minnesota's most culturally and economically diverse populations. It has both high-density housing, as well as single-family residential neighborhoods. It is also home of the Twin Cities campus of the University of Minnesota, as well Augsburg University, University Medical Center, and Fairview Hospital.
"This is the time," Worlobah said. "This is a historic opportunity to actually represent working class people in our city."
Worlobah said it was working as a lead organizer for the 15 Now campaign in Minneapolis, which aimed to increase the city's minimum wage to $15 an hour, that inspired her to seek a position in public office. The movement was successful, and beginning in 2017, the city of Minneapolis has taken steps to gradually increase the minimum wage. By July 2021, large businesses in Minneapolis, those with over 100 employees, will be required to pay their employees at least $15 an hour.
Labor activists launched the push for higher wages nationally to ensure that workers receive adequate compensation from their employers for their contributions as a way to fight against poverty. The U.S. Bureau of Labor Statistics estimates that in 2018 about 7 million Americans were classified as the "working poor,"— persons who have spent at least 27 weeks in a year in the workforce but still live in poverty due to low wages.
Worlobah is now running on a platform of public safety, labor protection, immigration reform, and universal housing among other issues. She attributes the growing tent encampments around Minneapolis to an affordable housing crisis that has left families around the country with limited housing options.
"Lack of affordability around housing is rippling all across the ward," she said. "I think it is no coincidence that we see tent encampments growing in our community."
In July 2020, as a response to the Covid-19 pandemic, the Minneapolis Park and Recreation Board issued temporary encampment permits for homeless residents to use the city's parks. But that permit expired in February, although the crisis of homelessness still remained unresolved.
In May, however, a new homeless encampment located on an empty private lot was created in the Seward neighborhood.
Even those who still have homes have struggled with high rents. According to a University of Minnesota's Center for Urban and Regional Affairs (CURA) rent stabilization report, Minneapolis workers with lower wages have seen the largest increases on their rent with a 44 percent spike between 2016 and 2019. Worlobah said in the five years she's been a Minneapolis resident, her rent has nearly tripled as she's moved around the ward.
If elected into office, Worlobah said she would work to pass rent control and increase taxation on wealthy individuals to create funds for public housing. She also promised push for the expansion the city's public living spaces as well as protect the ones in place from privatization.
Of all the issues listed, Worlobah said she considers public safety to be the most critical. As a Southside Chicago native, she said she understood what it is like to live in the chaos and violence that plague the city's most dangerous neighborhoods.
Like many cities across the United States, Minneapolis has seen an increase in crimes and homicides during the pandemic. If elected Worlobah intends on backing legislation that restructures public safety to best serve the community.
"The first thing that is going to be on top of our minds in the city council is passing the ordinance that's going to back the Yes 4 Minneapolis campaign around creating a new Department of Public Safety," she said.
The Yes 4 Minneapolis campaign was launched in 2020 as a reaction to the murder of George Floyd by a police officer.
"I simply want a ward where everyone can breathe," Worlobah said.
Worlobah moved to Minnesota eleven years ago after earning an academic scholarship to study at Carleton College in Northfield Minnesota. She moved to the Twin Cities after graduating to work at the Women's Center in Minneapolis.
Since then she has been part of a series of social justice and educational equity movements, which include joining the Black Lives Matter movement after the death of Jamar Clark in November 2015 by Minneapolis police, and later the death of Philando Castile in a suburb outside of Saint Paul. Worlobah currently works as a community organizer for Education Minnesota, a union that represents over 87,000 educators in the state. She is also pursuing her doctorate degree in Gender, Women, and Sexuality Studies at the University of Minnesota.
Worlobah moved to Ward 2 five years ago, she said, because it offered safe and affordable housing options, amenities that she wants to preserve. She also enjoys the sense of community and inclusivity she's experienced living in her Seward neighborhood.
"The sense of community even in the most trying time, you know people care," she said. "We walk the talk, we want to make sure everyone is included."
Worlobah is running against incumbent Cam Gordon, a green party member who has represented the Ward for the past fifteen years. Other candidates include Yusra Arab, and Tom Anderson.
Worlobah lives in the Seward neighborhood with her husband.
Cynthia is a graduate of the University of Minnesota School of Journalism. She has interned at Mshale and Voice of America and previously worked at the Minnesota Daily. She recently returned from Seoul, South Korea where she was an English educator.





(1 votes, average: 5.00 out of 5)


Loading...