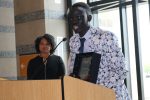 ST. PAUL, Minn. – African rising stars Oballa Oballa and Nasra Ali Farah were among 22 individuals honored Monday during the state's "Outstanding Refugee Awards" ceremony at the Minnesota History Center.
The two received the Young Leader Award, which recognizes young people who have achieved great milestones and are making a difference in their communities.
The event, hosted annually by the Minnesota Department of Human Services, recognizes civic engagement, entrepreneurship, young leadership and resilience shown by the state's refugees. This year's awards ceremony included recipients from 2020 following last year's awards ceremony cancellation due to the pandemic.
Farah is this year's recipient of the Young Leader Award while Oballa was for 2020.
Farah and Oballa' s rise to prominence in Minnesota has been nothing short of meteoric. Oballa was elected to the Austin City Council last November, less than eight years after coming to the United States.
"For someone like me whose last hope was America and find myself living the dream, I always tell my wife that if anyone cannot succeed in America, they cannot succeed anywhere," Oballa said as he received his award.
Farah, a social worker, spoke to Mshale after receiving her award and recalled her first year in the United States when she had to walk four miles at night from work at a meat packing plant in Willmar.
"I was just 18 when I came by myself and it was very difficult then," said Farah. She recalled how her college advisor invested time in making sure she enrolls at Saint Cloud State University by personally driving her there.
"Sometimes when you think there is no hope, someone like my former college advisor surprises you," Farah added.
Governor Walz who spoke at the ceremony said the state has "been lucky to be the recipient of over 100,000 refugees in the last 42 years."
Walz said the contributions refugees make to the state far outweighs "what we give (them)," pointing to their contributions in science, medicine and entrepreneurship.
The governor said those being honored on Monday embodied the spirit of Minnesotans and Americans at large that this the best place to get success.
'We don't expect you to leave the best of your cultures at home, we expect you to bring them here, practice your religion and culture as you see fit," Walz said. "Keep those languages alive for your children so they understand where they came from and let us take part in that diversity."
Watch: Awards Ceremony Livestream.
2020 Outstanding Refugee Award recipients
The Civic Engagement Award recognizes individuals who make their communities stronger through civic participation:
Dr. Obsa Abdulla Hassan of Spring Lake Park, a physician at Mercy Hospital in Coon Rapids, founder of the Axis Family Clinic in northeast Minneapolis, and a volunteer at Hadi Medical Clinic, a free community clinic in Brooklyn Center.
Hani Haybe of Minneapolis, a nurse at Hennepin Healthcare and the founder of Street Soccer Twin Cities.
Farhiya Iman of St. Cloud, a social worker for Stearns County and owner of Nori Cafe and Creamery.
Rufo Jiru of Shakopee, a chemist and humanitarian, founder of the Anole Sisters nonprofit in Minneapolis, an active member of the Disability Support International Advisory Working Group and the Minnesota Autism Council Working Group in St. Paul, and a board member of the Multicultural Autism Action Network and Minnesota International Non-governmental Organization Network in Minneapolis.
Novia Josiah-Isaac of Maplewood, a licensed social worker at the Center for Victims of Torture in St. Paul.
Entrepreneurship Award goes to individuals who contribute to their communities in business, the arts or education:
Amran Abukar of Willmar, a cultural liaison at Kennedy Elementary School and an author.
True Thao of Cottage Grove, a mental health advocate and founder of True Thao Counseling Services.
Young Leader Award acknowledges the contributions of young people who have achieved great milestones and are making a difference in their communities:
Ku Mo of St. Paul, a University of Minnesota student and community supporter.
Oballa Oballa of Austin, a student at Riverland Community College, an advocate and leader in the statewide LeadMN student organization, and an honorary member of the Austin City Council.
New Beginnings Award recognizes individuals who have been in the country two years or less and exemplify resilience and courage while rebuilding their well-being and making Minnesota home:
Bugondo (Blaise) Ntibonera of Minneapolis, a refugee resettlement case worker at Lutheran Social Service of Minnesota in Minneapolis.
2021 Outstanding Refugee Award recipients
Civic Engagement Award, which recognizes individuals who make their communities stronger through civic participation:

Michael Yang of St. Paul, Southeast Asian community specialist for City of Minneapolis Neighborhood and Community Relations
Mamady Konneh of Golden Valley, CEO for We Network Now
Fatima Molas of Columbia Heights, chairperson of Multicultural Autism Action Network
Mohamed Abdulkadir of St. Peter, refugee training specialist at MRCI
Maylary Apolo of Austin, legal assistant at the Immigrant Law Center of Minnesota
Armin Budimlic of Rochester, executive director for the Intercultural Mutual Assistance Association
Kahin Adam of St. Cloud, psychotherapist and community health specialist for CentraCare.

Entrepreneurship Award, which recognizes individuals who contribute to their communities in business, the arts or education:

Salman Elmi of Blaine, president and founder of Tavolo and Top Figure
Ayan Abukar of Bloomington, executive director for Action for East African People.

Young Leader Award, which recognizes young people who have achieved great milestones and are making a difference in their communities

Nasra Farah of Waite Park, speaker, writer and board member for Unite Cloud.

New Beginnings Award, which recognizes individuals who have been in the United States for two years or fewer, and exemplifies the resilience and courage it takes to rebuild their well-being and make Minnesota their home:

Cani Adan of Moorhead, program manager for the Afro American Development Association
Abdikarim Hassen of Rochester, volunteer for Family Service Rochester.

Born and raised in Kenya's coastal city of Mombasa, Tom is the Founder, Editor-in-Chief and Publisher of Mshale which has been reporting on the news and culture of African immigrants in the United States since 1995. He has a BA in Business from Metro State University and a Public Leadership Credential from Harvard's Kennedy School of Government. He was the original host of Talking Drum, the signature current affairs show on the African Broadcasting Network (ABN-America), which was available nationwide in the United States via the Dish Network satellite service. On the show, he interviewed Nobel laureates such as 2004 Nobel Peace prize winner, Professor Wangari Maathai, the first woman from Africa to win the peace prize and heads of states. Tom has served and chaired various boards including Global Minnesota (formerly Minnesota International Center), the sixth largest World Affairs Council in the United States. He has previously served as the first Black President of the Board of Directors at Books for Africa. He also serves on the boards of New Vision Foundation and the Minnesota Multicultural Media Consortium. He has previously served two terms on the board of the United Nations Association. An avid runner, he retired from running full marathons after turning 50 and now only focuses on training for half marathons.





(1 votes, average: 5.00 out of 5)


Loading...