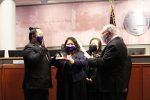 Xp Lee was sworn in as the newest member of the Brooklyn Park City Council today as the city's Economic Development Authority (EDA), which consists of city council members met during their monthly meeting. This was the first opportunity to swear in Councilmember Lee. He won a special election on February 8 to fill the East District seat that has been vacant since last August when Mayor Lisa Jacobson who represented the district ascended to the mayorship.

Jasmine Webber is a photojournalist at Mshale. She is a graduate of the University of Minnesota.





(1 votes, average: 5.00 out of 5)


Loading...