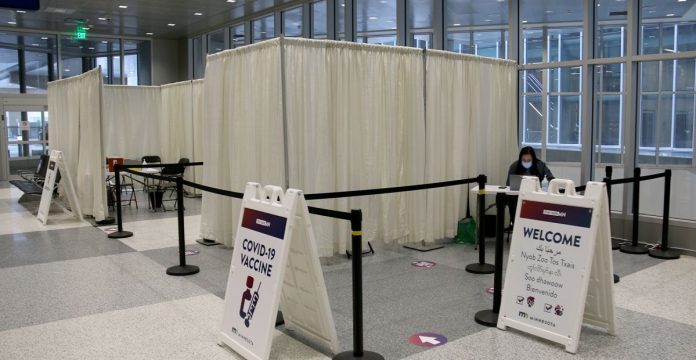 The two COVID-19 vaccination sites at Minneapolis-St. Paul International Airport are now consolidated in a single pre-security location that is more accessible to the public, according to a post on the Metropolitan Airports Commission site yesterday.
The site is open seven days a week from 7 a.m. to 3 p.m.
The Minnesota Department of Health and the Metropolitan Airports Commission (MAC) have coordinated the relocation to Terminal 1 between the Blue and Red parking ramps, on Level 1. The site is conveniently located one level below the state's COVID-19 testing site that has served thousands during the pandemic.
MSP has provided two sites for the state's vaccination program since June 2021: in Terminal 1 (post-security) and Terminal 2 (pre-security). Nearly 5,400 people were vaccinated at MSP in 2021. The new more-centrally located vaccine clinic will continue to offer both the Johnson & Johnson and Moderna vaccines for those over the age of 18.
If interested in getting free vaccinations or booster shots, while walk-ins are welcome, appointments are encouraged and  can be scheduled at this link.
Directions to the location can be found at this webpage.





(No Ratings Yet)


Loading...