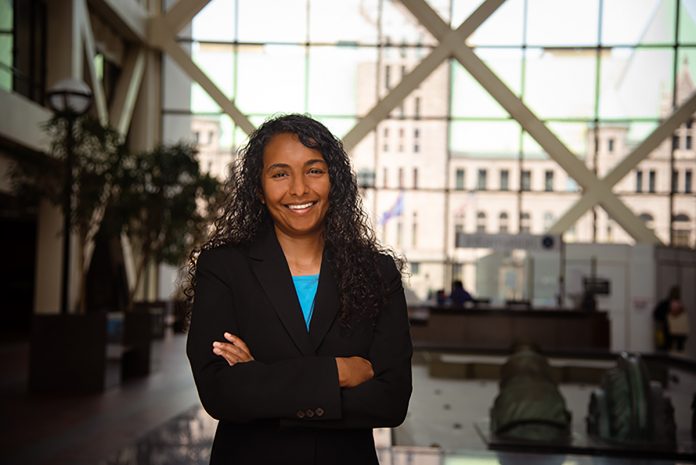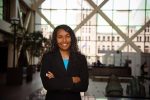 Saraswati Singh is tired of waiting for reforms in the justice system to happen. The thirty-seven-year-old is taking action by running for a seat in one of the system's highest offices.
Singh, who is currently an Assistant Ramsey County Attorney, announced last year that she is running to replace Hennepin County Attorney Michael Freeman, who after a career that spans 24-years, decided not to seek re-election in November.
"I want change in the criminal justice system, but I've been waiting for it for so long," she said. "There are a lot of people who say the right things but I want it actually implemented."
Reform of justice systems across the United States has been one of the most contentious issues in the last two years. Hennepin County has been the epicenter of the struggle. After the death of George Floyd, an unarmed Black man who was murdered by a Minneapolis police officer in May 28, 2020, there were countrywide protests of people calling for reforms. But progress has been slow because a sharp rise in crime during the coronavirus pandemic has increased calls for tougher law enforcement.
In 2020, the first year of the pandemic, the United States recorded a 30% surge in violent crimes, according to FBI data. For example, there were 21,570 murders in the country, 4,900 more than the previous year. In 2021, there were 96 homicides in Minneapolis, double the number of murders from 2019, and one less than the 1995 record that earned Hennepin County's and Minnesota's largest city of Minneapolis, the nickname, "Murderapolis."
If elected, Singh will be the first woman of color—and only the second woman—to hold the position since Sen. Amy Klobuchar's historic 1999 win.
Singh, who was born and raised in New York City, moved to the Twin Cities 13 years ago to study law at the University of Minnesota. She is the granddaughter of Bhagwat Prasad Singh, who served as India's ambassador to the United Nations. Before he became a diplomat, her grandfather was a student activist and journalist, who was part of a movement that successfully led nonviolent protests against British colonial rule in India. Singh said her grandfather was one of her greatest inspirations in the fight for justice, a hunger that has driven her career.
"I'm tired of waiting," Singh said. "I'm gonna roll up my sleeves and actually dig in and do the hard work."
But before she can roll up her sleeves, Singh will have to contend with candidates like Mary Moriarity, a former Hennepin County chief public defender, Richfield City Council member Simon Trautman, former Minneapolis City Council president Paul Ostrow, and Minnesota House Majority Leader Ryan Winkler. Retired Hennepin County District Judge Martha Holton Dimick is also in the race.
Since launching her campaign, Singh has earned endorsements from her current boss, Ramsey County Attorney John J. Choi, Rep. Athena Hollins, and Rep. Esther Agbaje, lawmakers in the lower chamber of the Minnesota State legislature.
"I think she's the best candidate for the job," said Agbaje, who represents District 59B. "She's interested in pursuing actual justice and accountability."
Agbaje, who herself made history in 2020 when she became the first Nigerian American to be elected to the Minnesota legislature, said Singh's background as a prosecutor and past leadership positions make her a strong candidate.
Although this is the first time to run for public office, Singh has a lengthy background working as a political operative. Before she went to law school, she interned for Sen. Hillary Clinton, and the House Rules Committee. She was also a field organizer for President Joseph R. Biden's campaign.
Before becoming a prosecutor, Singh worked in the U.S. Attorney's Office in Minneapolis, where she managed civil rights cases. She also clerked for Hennepin County District Court Judge Jay Quam, handling cases of violent crime. At the Minnesota Attorney General's Office, Singh worked in the Public Safety Division, where she traveled to 62 counties for civil and criminal cases. She has been in her current position for four years.
Singh said she's running to address issues in public safety, police accountability, racial equity, restorative justice, as well as fair and just prosecution, issues she considers to be of equal importance. If elected, she said she would increase the rate of prosecution for violent offenders. The current system has not been effectively ensuring that individuals who commit violent crimes are convicted in a timely manner, she said. Singh said that she has seen the caseloads in her current position significantly increase which leads to a backlog of cases for prosecution.
"Some say that justice delayed is justice denied," she said.
Singh wants to accomplish her goal by decreasing prosecution of nonviolent minimal drug possession charges, which she said would free up more attorneys to prosecute violent offenders. She said she would also expand rehabilitation facilities for both victims and perpetrators. Singh also said that initiatives that prevent crime and rehabilitate offenders are essential in building healthy and safe communities.
"It is in our benefit to prevent crime from happening in the first place," she said. "Where society fails, we see them in our courtroom."
Singh also wants to ensure that the police are held accountable for any wrongdoing as well as increase the diversity of the Hennepin County Attorney's office.
"The Hennepin County Attorney's office should reflect all of Hennepin County," she said. "This is what our victims look like."
Debra Bulluck, an attorney who advocates for victims of sexual and domestic violence, said she supports Singh because she has witnessed her sincere advocacy for justice and dedication to change. Bulluck and Singh met in a women of color attorney forum when Bulluck first moved to the Twin Cities four years ago. The two have since maintained a professional relationship, she said.
"Saraswati is a kind, genuine human being who really cares," Bulluck said. "She's cut from a different cloth".
Cynthia is a graduate of the University of Minnesota School of Journalism. She has interned at Mshale and Voice of America and previously worked at the Minnesota Daily. She recently returned from Seoul, South Korea where she was an English educator.





(No Ratings Yet)


Loading...