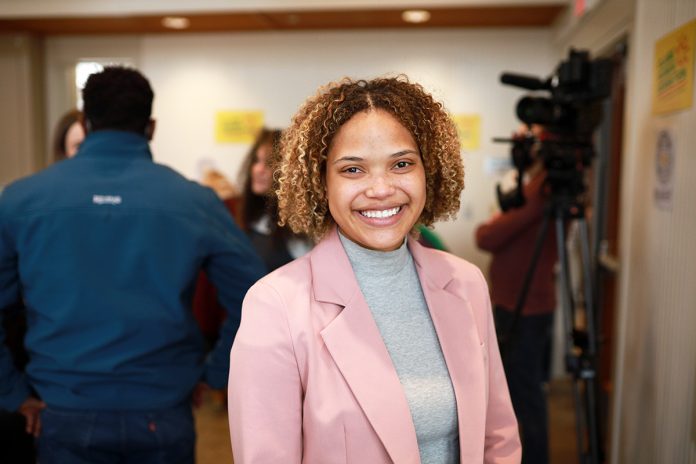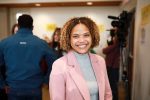 Another candidate has joined the race for the Minnesota State Senate, therefore increasing chances of history that has been in the making.
Clare Oumou Verbeten, who announced her candidacy on Feb. 15, kicked off her campaign on Wednesday at Lexington Park, in the suburban Minneapolis city of Roseville. Verbeten is running for the District 66 seat in the upper chamber of the Minnesota state legislature.
"Politics has always been a huge part of my life," Verbeten said. "These past few years, my heart has been in the fight against the rampant anti-Blackness in our community."
Despite its racial diversity and historically leaning Democrat, Minnesota has never elected a Black woman to the state Senate since it joined the union on May 11, 1858.
Verbeten is the third child of African immigrants to announce her candidacy. She joins Huldah Momanyi-Hiltsley, and Zaynab Mohamed, who come from Kenya and Somalia, respectively. Momanyi-Hiltsley is running to represent District 38, while Mohamed hope to be the state senator for District 63. If either of them is successful, she could make history as the first Black woman – let alone with direct African immigrants—to occupy a seat in the state Senate.
Like the other two women, Verbeten is seeking nomination to be the flag bearer of the Democratic-Farmer-Labor (DFL), as the Democratic Party is known in Minnesota.
Verbeten is the daughter of a Senegalese immigrant a second-generation Dutch American, according to her website. She grew up in Roseville, and attended public schools in the area. She is currently the equity and inclusion program manager for the City of St. Paul, where she has worked since 2019. Her political experience includes working as deputy political director for Gov. Tim Walz in 2017.
Heather Gustafson, who is also a DFL candidate running for state Senate in the newly-formed District 36, said that she was a community volunteer when she met Verbeten.
"I had heard so many good things about her, so when I heard she was running, I was so excited," said Gustafson.
Gustafson said the fact Verbeten is a young woman of color is significant, and that it will help to diversify perspectives in the capitol.
"It's so inspirational watching her, knowing her background," said Gustafson. "I feel like I look up to her, and I'm older than her."
Verbeten cites persisting racial disparities in her neighborhood as the reason she decided to launch her campaign.
"The Twin Cities are home to some of the worst racial inequities in the country," she said. "Racism and white supremacy are built into our systems, so we need to address them as the structural issues that they are."
Verbeten said racial justice is at the forefront of her campaign, especially healthcare and educational disparities, racial wealth gaps exacerbated by the pandemic, and a rise in high-profile police brutality cases.
"These may seem like a lot of separate issues, but they are so intertwined," she said. "If we can get one under control, it makes it so much easier for us to tackle the others."
Verbeten said if she wins, the housing crisis will be another problem that she will work go solve. It is something that is personal to her. In 2020, she and her husband bought a home, which she said was only possible because they were fortunate enough to keep their jobs during the pandemic, unlike many Black families.
"Black homeownership rates are already low, so pandemic-induced job losses only further devastated our communities," she said. "Owning a home is a major source of wealth for families."
According to the U.S. Federal reserve, the average family that owned a home in 2016 had $231,400 in household wealth, compared to just $5,200 for renters. But due to historical systemic discrimination in real estate and employment, Black Americans have the lowest rate of homeownership of any racial group. Data from the 2020 U.S. Census  shows that 47% of Black Americans owned the homes they lived in. In comparison, 76% of White Americans, 51.4% of Hispanic Americans, and 61.4% of Asian, Native Hawaiian and Pacific Islanders were homeowners.
Verbeten also talked about her upbringing and how it has molded the trajectory of her career. As a daughter of an immigrant mother, she said the values and policies of the DFL resonated with her and her family. She spoke about watching her mother navigate through life shaped her perspective on work and the American Dream.
"The drive in me comes from her," Verbeten said. She taught herself English and then worked her way up to opening a cleaning business. I remember going along with her to help clean DFL offices as a kid."
Verbeten said that being a child of an immigrant has also positioned her to understand the intersection of racism and xenophobia. She has seen with her parents some of the struggles many immigrants face upon their arrival in the United States, including what she described as a grueling naturalization process. She hoped to work toward improving the quality of life for all immigrants in her district.
Verbeten also emphasized the importance of representation in political offices, and why her campaign is so important. For her, the campaign means more than simply being elected to the Senate. It also means representing her community and making space for their voices to be heard, she said.
"Everywhere I go- every room I walk into, I am representing my people," she said. "It's a significant responsibility, but I could not be prouder."
Toni Newborn, the director of human resources, and chief equity officer at the City of St. Paul, said she is confident in Verbeten's commitment to public service, and that she would bring a genuine, racial equity lens into office.
"She is a hardworking, passionate social justice advocate," said Newborn. "I trust that she will represent and do right by the communities that she serves."

Panashe is a general assignments reporter.





(1 votes, average: 5.00 out of 5)


Loading...