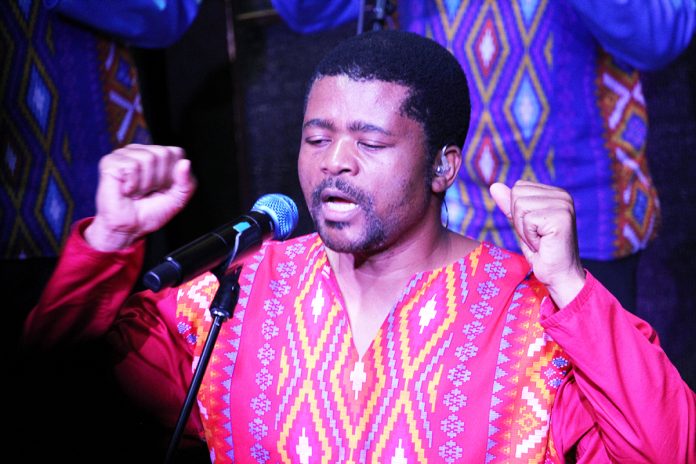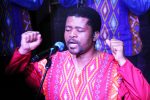 Without fanfare or prelude, a simple introduction by an off-stage voice introduced Ladysmith Black Mambazo, welcoming them to the stage on the Ides of March at The Dakota Jazz Club on Tuesday, their first appearance in Minnesota in over two years.
The eight-member group immediately filled the club with their iconic sounds recognizable as the music of South Africa. From tunics of cobalt blue or amber red, to their red socks and shockingly white sneakers, they looked reassuringly familiar.
Their 90-minute set sung in both Zulu and English began with a traditional greeting – "Sawubona" — "We see you."Performing on a bigger stage in previous appearances and individually miced – and they were more energetic – using every inch of their performance arena. The larger space enabled them to dance with greater leeway. Tuesday's sound system provided a microphone on a stand for each singer, but if they turned their heads from the mic, their voices were lost. Consequently, they stayed close to their mics and used arm gestures with occasional breakaways of two or three members dancing in unison.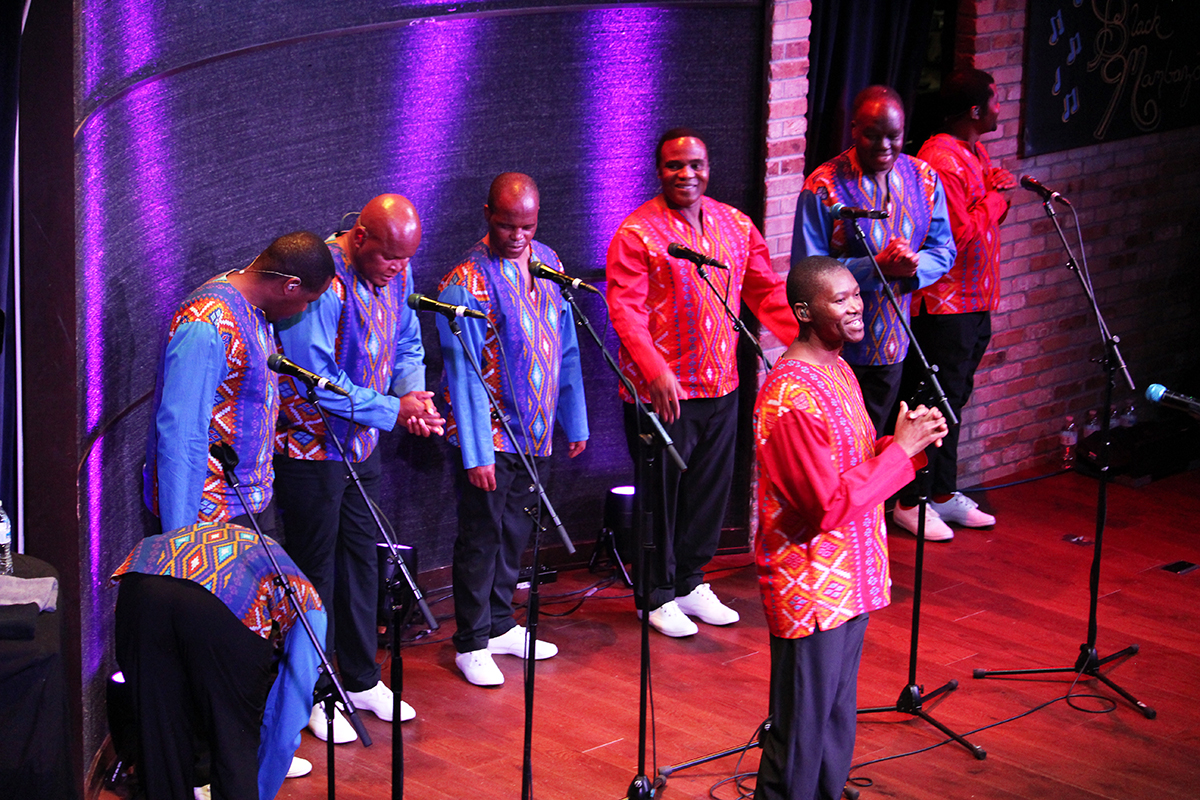 Msizi Shabalala admitted, however, that they weren't as young as they used to be. After two years with greatly reduced performance, the dancing left them winded. At the same time, I don't know any other 60- or 70-year-old man who can kick his foot above his head and sing professionally at the same time. The group collectively continues to amaze and impress their audiences.
The Dakota's tight press to fill as many seats as possible has dialed back. Due to Covid-19, there were fewer spectators and all the staff was masked. The atmosphere felt subdued in comparison to previous visits. Picking up on this, Thulani Shabalala declared "Music makes me happy, it gives me joy, you should try it, too, if you want to be happy." Reminding us that happiness is a choice independent of circumstances.
Their set-list included music composed by their founder, Joseph Shabalala, back in 1965. They also included a tribute to the senior Shabalala as he'd passed in February, 2020. Many of the numbers they sang featured call-and-response as well as tight harmonies for which the group is known.
They capped the evening with Homeless, a number performed with Paul Simon on his Graceland album and possibly the most recognizable song on their schedule. It was interesting to hear how that song so many USians know fit seamlessly with all their other songs. While, for many, Graceland was a new infusion of music into contemporary culture in the United States, yet for Ladysmith Black Mambazo, the songs are a continuum of what they've been playing for nearly 60 years.
By evening's end, we were singing along, clapping, whistling, and shaking our shoulders, swept up in the exuberance of the musical performance.
Susan is based in Minneapolis and reports on general assignments for Mshale with a focus on entertainment. In addition to reporting, she is also a writer, poet, teacher and coach.





(No Ratings Yet)


Loading...