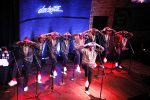 It's impossible to walk away from a Ladysmith Black Mambazo show disappointed. They are consistently harmonic, tender, and impressive. They displayed all of these traits and more on stage at the Dakota in Minneapolis on March 28th.
Their 75-minute set, one of two for the evening, opened without preamble from the a cappella group. In their brown trousers, earth-toned tunics accented with gold cord, red socks, and brilliantly white sneakers, they walked with decorum onto the stage singing.
Our attention riveted to these gentlemen, ranging in age from their most senior singer, Albert Mazibuko, 74, to their newest member who took his father's place less than ten years ago, Sabelo Mthembu, 40, to their youngest member Mfanafuthi Dlamini who at 37 is exactly half the age of Albert Mazibuko. They are timeless. And tireless.
Their second number, Nomathemba, is a song about hope. The style of singing Ladysmith Black Mambazo performs is Isicathamiya. There is no direct translation for this word, but once you've heard it and seen it, you'll never forget it.
Tuesday evening, the nine men sang with tight harmonies, interspersed with whoops and tremolos and clicks especially from Mthembu who echoes his father with seemingly extraneous, yet integral and essential sounds that make isicathamiya music memorable and thrilling.
True to the Zulu heritage, Ladysmith Black Mambazo executed uniform choreographed steps and kicks and hand gestures inherent to their music. After they sang Hello My Baby, which included singing, "kiss me twice" accompanied with throwing us kisses, Albert Mazibuko explained the Zulu dance.
He described how the stomp is performed by lifting one's leg up so that the upper part of the leg is parallel with the floor, then bringing the foot down to make a loud stomp. However, when the foot is kicked over the top of the dancer's head—and yes, they all offered this dance move—the foot is touched lightly on the floor, not bashed down.
Joseph Shabalala's four sons, Thamsanqa, Sibongiseni, Thulani, and Msizi, rotated the frontman-position, but never with an air of self-importance. They each set the tone of gratitude and humbleness. This mindset imbued their sound, rich and layered, so that in the audience, we easily could forget there were no instruments supporting them as rhythmic bass notes and higher-pitched melodies seemed to create an entire orchestra.
Nearing the end of the show, having danced and sang for 50 minutes without becoming breathless, Thulani Shabalala admitted, "This group was formed in 1960 and we aren't as young as we used to be." Member Pius Sheri, 46, kept kicking up his toes past his forehead, but like others closer to his age, Abednego Mazibuko, 69, reined back their exuberance and  kicked instead to his shoulders.
Poignantly, when the group sang their iconic, Homeless, co-written by Joseph Shabalala and Paul Simon, we were taught the Zulu word for thank-you, Ngiyabonga.
Thankful the audience was, from the small children to the adults. Thankful to hear their enduring, comforting music and find inspiration in their dance and smiles.
Susan is based in Minneapolis and reports on general assignments for Mshale with a focus on entertainment. In addition to reporting, she is also a writer, poet, teacher and coach.





(1 votes, average: 5.00 out of 5)


Loading...