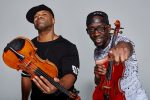 Black Violin performs at The Ordway in St. Paul next Friday, June 17th. Everything about this duo, Wil Baptiste and Kev Marcus, flips expectations on its head.
They aren't the first musicians playing contemporary violin on stage—think Boyd Calvin Tinsley with the Dave Matthews Band or Karen Briggs with Yanni.
They aren't the first black classical violin players on stage either—think Randall Goosby and Beverly Kane Baker.
They aren't the first hip-hop musicians, no examples even needed. What they are is one of the first bands to make a mash-up of violin playing hip-hop in a classical style to sold-out shows at places like the Kennedy Center in Washington, D.C.
Their ability to make a platypus of sound presented to an audience accustomed to either, but not both, classical music or rap, pushes them into a unique and original genre, a blending of the Minnesota Orchestra with KayCyy Pluto.
Through their live-shows, Black Violin challenge the stereotypes and preconceived notion of what a classical musician looks and sounds like. "The stereotypes are always there, embedded so deep in our culture," says Wil. "Just by nature of our existence we challenge those ideas. It's a unique thing that brings people together who aren't usually in the same room, and in the current climate, it's good to bring people together."
Black Violin at the Ordway
Date: Friday, June 17, 2022 @ 7:30PM
Ticket link: https://ordway.org/events/black-violin
Note: If you have tickets from the postponed April 3 show, your tickets are good for this concert.
Susan is based in Minneapolis and reports on general assignments for Mshale with a focus on entertainment. In addition to reporting, she is also a writer, poet, teacher and coach.





(1 votes, average: 5.00 out of 5)


Loading...