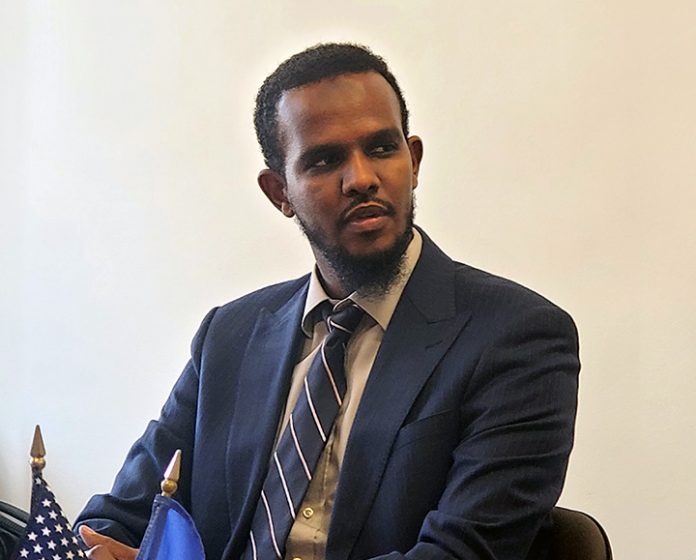 The Minnesota Department of Employment and Economic Development (DEED) has appointed Abdiwahab Mohamed as its temporary Assistant Commissioner for Immigrant and Refugee Affairs. Mohamed, who is currently the agency's regional trade manager for Africa, Middle East, and India, said that for the last five years, he had had the honor of working with the larger Minnesota business community at the Trade Office. Shifting into his new role would allow him to focus on expanding access and support for immigrants and refugees in communities across the state, he said.
"I am excited to continue the critical work underway and look forward to working with the community and leaders across state government to provide ongoing support and resources," Mohamed said in a statement released after his appointment.
Mohamed, who was born in Kenya, will replace Assistant Commissioner Anisa Hajimumin, who will be leaving at the end of August to move with her family to Pennsylvania, according to a statement from the agency. For the last two years, Hajimumin, who is originally from Somalia, has been leading Minnesota's Office of New Americans (ONA), a privately-funded initiative that works with new immigrants in the state to help them maximize their potential in the economy.
DEED Commissioner Steve Grove thanked Hajimumin for "her extraordinary efforts to serve immigrants and refugees, particularly through "the darkest days of the COVID-19 pandemic," adding that her legacy would be safe in Mohamed's hands.
"I'm grateful to Abdiwahab for stepping into the assistant commissioner role so there's no interruption in our services to immigrants and refugees – services that are more important now than ever before," Grove said.
Hajimumin said it had been an honor to have the opportunity to serve immigrants and refugees, and that she would be cheering on the continuation of ONA's efforts into the future.  
"Immigrants and refugees have long been a source of strength for Minnesota, both culturally and economically," she said. "We are blessed with many immigrant communities in our state – and know they face unique challenges navigating new lives in Minnesota.
In the last decade, Minnesota has added 81,400 new immigrants into the workforce, according to DEED. Immigrants in Minnesota make up 10% of the population, according to the American Immigration Council. The top country of origin for newcomers in the state is Mexico, with 12% of the total immigrant population hailing from there, followed by Somalia (8%), India (6%), Laos (5%), and Ethiopia (5%). More than one in ten workers in Minnesota is an immigrant, a figure comprising a significant portion of the state's labor force. The top industries for immigrants in Minnesota are healthcare and social assistance, manufacturing, retail trade, educational services, and accommodation and food services.
During the last legislative session, DEED secured state funding to extend the ONA beyond the grant funding, which concludes in July 2023. Most recently, the ONA has been heavily focused in helping Afghan refugees to transition smoothly into life in Minnesota and find opportunities for their families. Over the past two years the ONA has extended its reach to launch programs such as the Internationally-trained Health Care Workers, which helps them land stronger roles in Minnesota's health care sector.
Mohamed will begin his new role Sept. 1 and will serve through the end of Gov. Tim Walz's first term.
Edwin Okong'o is a Mshale Contributing Editor. Formerly he was the newspaper's editor.





(1 votes, average: 5.00 out of 5)


Loading...