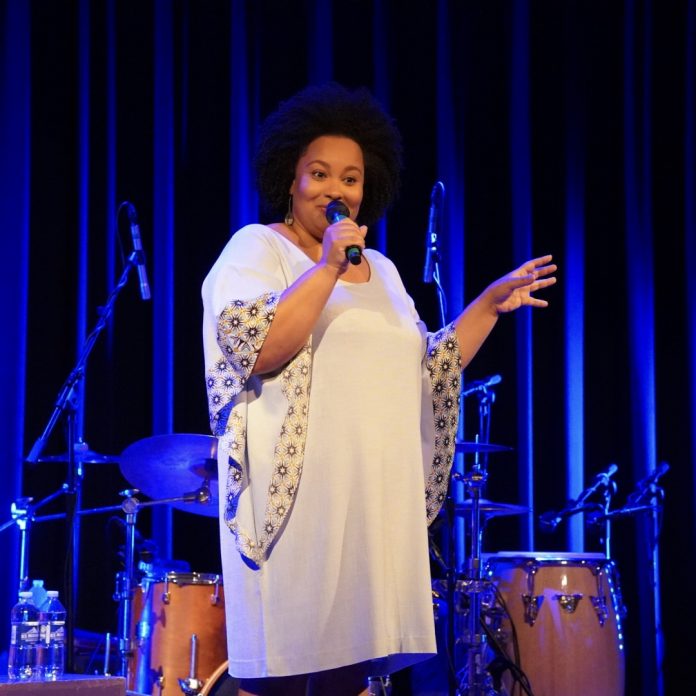 Lucibela said she wanted to spread Cape Verde's music to the world as did her role model  Cesária Évora. Friday night, September 16th, on stage at the Cedar Cultural Center, she took another step closer to her goal.
A modest-sized, yet passionate audience danced to the warm-up DJs, Douala Soul Collective, a pair of Cameroonians who know how to groove as well as spin their tunes. The crowd didn't stop moving when Lucibela and her quartet of musicians, bass guitar, cavaquinho,  drums, and acoustic guitar, climbed on stage at nine pm.
Her single-set lasted over 90 minutes with minimal talking and a lot of singing. There appeared to be only one Cape Verdean person in the crowd, which delighted Lucibela, but many attendees present were familiar with Lucibela's music. Cape Verde's population is slightly more than half a million so having anyone in the crowd to claim that land as home is surprising.
Sung in both Creole and Portuguese, her sound is flawless. She entertained with the slower morna songs and the upbeat often humorous coladeira numbers. Many of the songs were from her recently released in 2022 album, Amdjer including Alma Gêmea, Zum Zum, and Adeus Mama. Her voice soared as she sang Laço Umbilical. The audience applauded at length in recognition of the depth and beauty of Lucibela's talent.
She shared a story when she sang, Alma Gêmea, which translates to soul-mate. "This song talks about a woman who wants to be nice and yet not misunderstood by the men" Lucibela paused, then spoke in a conspiratorial voice,"…you know what I'm saying?" The audience laughed at the innuendo. "The woman is not an animal; it's a funny song."
Lucibela was reticent to speak much in English, but she got her message across. She even induced the crowd to sing in Creole for a couple of call-and-response numbers. As the evening wound down, she urged even those couple dozen people who found seats at this standing concert to dance. The floor was empty of chairs giving us all opportunity to sway our hips and shuffle our feet.
Cape Verdean music has an island sound with its cavaquinho, similar in sound and shape to a ukulele. The songs are often about relationships and about women and their daily lives. No children were at the show, which was a surprise and a shame. It's the perfect music to introduce children to world-music. Wholesome, pure in sound, never too loud—not reaching above 77 decibels, which is how loud most alarm clocks are, and unique.
This was Lucibela's second tour of North America and her first time at The Cedar. She promises to return.
Susan is based in Minneapolis and reports on general assignments for Mshale with a focus on entertainment. In addition to reporting, she is also a writer, poet, teacher and coach.





(No Ratings Yet)


Loading...