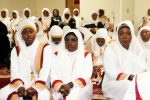 Attorney General Keith Ellison and Brooklyn Center Mayor Mike Elliott joined members of the West African Muslim community in the Twin Cities on Saturday to celebrate the grand opening of Masjid Al-Ansar in Brooklyn Center – a project three years in the making.
The mosque at 4900 France Ave. provided a backdrop for a colorful ribbon-cutting ceremony as proud community members, thrilled to see their years of hard work come to fruition, crowded around their Imam, Mohammed Dukuly and the dignitaries to cut the ribbon.
The Muslim community in the Twin Cities seven county metro area is estimated to be close to five percent of the area's 3 million people, according to the Federal Reserve Bank of Minneapolis. Minnesota is also home to the first Muslim elected to serve in the U.S. Congress when Keith Ellison was elected to the US House of Representatives in 2006. Ellison is the current Attorney General for Minnesota and is also the first Black person to win statewide office in Minnesota.
Ellison and Elliott, who are both in the middle of tight reelection races, were joined at the ribbon cutting by other civic leaders such as Brooklyn Park councilmember Wynfred Russell and Hollies Winston. Russell and Winston are on the ballot in November for mayor of Brooklyn Park, with the winner becoming that city's first Black mayor.
Siad Ali, the senior advisor and outreach director for U.S. Senator Amy Klobuchar, brought congratulatory messages from the state's senior US senator.
"I will not ask for your vote here as this is not the place," Ellison said. "But as Muslims we can't complain about something and not go out to vote to change it."
Aicha Kromah recently moved from Austin, Minn. to the Twin Cities. She stood outside the building, smiling and gazing at the crowd outside.
The Liberian immigrant said there was nothing to compare to in Austin and when she lived there, she had to drive at least an hour to Rochester to pray at a mosque.
"It is hard too hard to describe how I feel, just happy," she said. "I feel like I am back home when I come here."
The new mosque is a much-needed improvement over the place where the congregation gathered for prayers for the past few years – an office building on Brooklyn Boulevard, said Kadiatou Sackor, a school bus driver in nearby Osseo.
"This is much better I tell you," Sackor said. "The community put in a lot of work in this and it is a great blessing indeed."
Many West African Muslims in the northwest suburbs, such as Sackor, worship at mosques in nearby cities such as Minneapolis. But, with such a growing number of Muslims from that part of Africa, it's important that they also have a place to remember their culture and practice their traditions and languages as they worship, those at the ribbon-cutting said.
A beaming Imam Dukuly, who has led the congregation since its founding, thanked and praised the community for its fundraising in making the dream of their own mosque a reality.
"Allah's blessings are upon those that build a mosque," Dukuly said. "It is a good thing they (congregation) have done."
Imam Dukuly said the congregation of about 200 consists of many hardworking African immigrants, mostly from West Africa, and a mosque to call their own is long overdue.
"However, we have many people from different parts of the world that come to worship with us, so we welcome all of them as we are all brothers and sisters" Dukuly said.
The new masjid is located in an area that is zoned for industrial use and had to be granted a special use permit by the city to use it as worship space.
One of those that was all smiles at the ribbon-cutting was Trevor Morlach, a realtor at Arrow Real Estate in Maple Grove. He has helped mosques rent space for worship before but Masjid Al-Ansar was the first mosque he has assisted in purchasing their own building.
"It was quite an involving process to work with the city and Imam Dukuly to get all the zoning issues sorted out and bring the building up to code, as the city required," Morlach said. "I am very happy that I could help them accomplish this."
The building is about 100 feet from the Caribou Coffee corporate headquarters, separated by railway tracks.  The masjid's entryway features an area for worshippers to leave their shoes, and immediately upon entering the prayer area, one is greeted by a flowery red maroon carpet. The minbar, the area where the Imam delivers the khutbah (sermon), is made of pine cedar.
Ahmed Sirleaf, an international development professional and currently a doctoral student at the University of Minnesota, stood outside with hundreds of others as the imam and dignitaries got ready to cut the ribbon.
Sirleaf considers himself a global citizen, given his extensive international development work. He worships on occasion at a masjid in north Minneapolis but appreciates one that is closer to the community.
"This means a lot. It is good to have something close to where you live so you don't drive too far and the community needs this," Sirleaf said outside the parking lot, gesturing toward the mosque "It is good to be around those you share a common culture as we worship."
"This is more than a mosque. It is also a gathering place that connects us," Sirleaf said.

Born and raised in Kenya's coastal city of Mombasa, Tom is the Founder, Editor-in-Chief and Publisher of Mshale which has been reporting on the news and culture of African immigrants in the United States since 1995. He has a BA in Business from Metro State University and a Public Leadership Credential from Harvard's Kennedy School of Government. He was the original host of Talking Drum, the signature current affairs show on the African Broadcasting Network (ABN-America), which was available nationwide in the United States via the Dish Network satellite service. On the show, he interviewed Nobel laureates such as 2004 Nobel Peace prize winner, Professor Wangari Maathai, the first woman from Africa to win the peace prize and heads of states. Tom has served and chaired various boards including Global Minnesota (formerly Minnesota International Center), the sixth largest World Affairs Council in the United States. He has previously served as the first Black President of the Board of Directors at Books for Africa. He also serves on the boards of New Vision Foundation and the Minnesota Multicultural Media Consortium. He has previously served two terms on the board of the United Nations Association. An avid runner, he retired from running full marathons after turning 50 and now only focuses on training for half marathons.





(No Ratings Yet)


Loading...