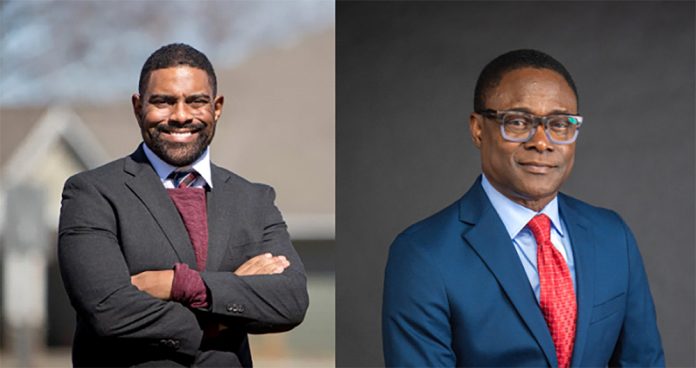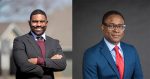 Central District Councilmember Wynfred Russell and Hollies Winston, who lost by two votes to outgoing Mayor Lisa Jacobson last year, are advancing to the general election.
Whomever of the two men that triumphs in November will have historical significance for Brooklyn Park with the election of its first elected Black mayor and most significantly the first African immigrant mayor for the city were Russell to prevail. Both understand the pain of losing an election by a handful of votes with Russell losing by five votes in his first run for the City Council and Hollies losing by two votes in special election for mayor last year.
Hollies received 55.37percent of the vote with 4,144 votes, and Russell received 27.85 percent of the vote with 2,084 votes — with 25 of 25 precincts reporting just before 10:00 p.m., according to the Minnesota Secretary of State.
Hollies did not have an election night party but instead joined state Senate candidate Huldah Hiltsley at her watch party at Mad Jacks in Brooklyn Park.
"We're grateful for the support of those who voted for us during this primary," Winston said in a statement to Mshale. "I am humbled by the chance to move forward to the general election. We look forward to engaging Brooklyn Park residents in our vision of a safe and prosperous Brooklyn Park."
Eliminated on Tuesday from contention in November was Councilmember Boyd Morson who represents the Central District in the Brooklyn Park City Council. He came in third in the three-way race with 16.78 percent of the vote, receiving 1,256 votes. He will remain in the council as in November he will still have two years remaining on his term.
Also, worth watching is what happens if Mayor Elliott in neighboring Brooklyn Center wins in November. Both Brooklyns have the potential to have Liberian-born immigrants as their mayor. Elliott advanced to the November election alongside April Graves, a sitting council member.
Brooklyn Park City Council races
Two Brooklyn Park City Council Districts, Central and West, had races in Tuesday's primary. In the Central District, four candidates were vying for a spot in the November general election. The two that emerged victorious were Teshite Wako who garnered 35.48 percent of the vote with 930 votes. He will compete in November against Nicole Klonowksi who came in second with 30.71 percent of the votes receiving 805 votes.
In the West District where a crowded field of five candidates were vying to be among the top two, Tonja West-Hafner, who currently represents the Central District but was redistricted into the West, emerged the top vote getter. West-Hafner received 519 votes (30.30 percent). She will compete in the general election against Maria Tran who came in second with 406 votes or 23.70 percent. Coming in third was Henry Momanyi, a Kenyan-American that many had expected to be among the top two.

Born and raised in Kenya's coastal city of Mombasa, Tom is the Founder, Editor-in-Chief and Publisher of Mshale which has been reporting on the news and culture of African immigrants in the United States since 1995. He has a BA in Business from Metro State University and a Public Leadership Credential from Harvard's Kennedy School of Government. He was the original host of Talking Drum, the signature current affairs show on the African Broadcasting Network (ABN-America), which was available nationwide in the United States via the Dish Network satellite service. On the show, he interviewed Nobel laureates such as 2004 Nobel Peace prize winner, Professor Wangari Maathai, the first woman from Africa to win the peace prize and heads of states. Tom has served and chaired various boards including Global Minnesota (formerly Minnesota International Center), the sixth largest World Affairs Council in the United States. He has previously served as the first Black President of the Board of Directors at Books for Africa. He also serves on the boards of New Vision Foundation and the Minnesota Multicultural Media Consortium. He has previously served two terms on the board of the United Nations Association. An avid runner, he retired from running full marathons after turning 50 and now only focuses on training for half marathons.





(No Ratings Yet)


Loading...