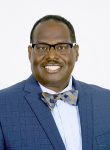 Funeral services have been announced for Dr. Daniel Honoré, the president of the Minnesota Conference of Seventh-day Adventists who died in his sleep on January 13.
A public viewing for Dr. Honoré is set for 10-10:45 a.m. Jan. 29 at The Edge Christian Worship Center, 4707 Edinbrook Terrace in Brooklyn Park, followed by services at 11:00 a.m. A repast will follow the service.
A service is also planned for New York where he was president of the Northeastern Conference for nine years before coming to Minnesota. Time and venue for the New York service had not been announced at the time of this writing.
Dr. Honoré was just into his fifth month of leading the Minnesota conference when he died. He started in September 2022.
"Daniel firmly believed that God called him to Minnesota, and his plans for furthering God's work in this territory emphasized his passion for evangelism and education," said Eric Mokua, vice president for administration at the conference, in a statement posted on the conference website.
The Minnesota Conference of Seventh Day Adventists has a membership of almost 11,000 in 78 churches. A significant number of its members are African immigrant families, with a department within the conference headquarters dedicated to serving the needs of its African immigrant churches.
Dr. Honoré was born in Santo Domingo, Dominican Republic to a Haitian father and a Dominican mother and was a second-generation ministry worker. He first practiced law with two offices in Boston, Massachusetts before he went into ministry. He later shared that he knew that he wanted to go to ministry work during his time as a lawyer, a law career that saw him helping families in Boston through the Concilio Hispano De Cambridge and as an investigator with the Boston Fair Housing Commission.
As the executive director of Mattapan-Dorchester Churches in Action, he trained local leaders on developing strategies for solving community problems.
He is survived by his wife of 32 years, Fritze, and three young adult sons and one daughter, Gamaliel, Nathanael, Gabriel and Danielle.
Instead of flowers, the family is asking well-wishers to donate to the Daniel Honoré Educational Endowment Fund that the Minnesota Conference has setup in his honor. The link is bit.ly/3HfNvw7.
"We hope this endowment fund will allow Adventist education to thrive and grow in Minnesota for years to come," said Gayln Bowers, vice president for finance at the Minnesota Conference.
Messages of condolences to the family can be posted online at: mnsda.com/about/news/in-remembrance-of-dr-daniel-honor.
The Brooklyn Park funeral service will also be streamed live on the conference YouTube channel: youtube.com/MinnesotaConference

Born and raised in Kenya's coastal city of Mombasa, Tom is the Founder, Editor-in-Chief and Publisher of Mshale which has been reporting on the news and culture of African immigrants in the United States since 1995. He has a BA in Business from Metro State University and a Public Leadership Credential from Harvard's Kennedy School of Government. He was the original host of Talking Drum, the signature current affairs show on the African Broadcasting Network (ABN-America), which was available nationwide in the United States via the Dish Network satellite service. On the show, he interviewed Nobel laureates such as 2004 Nobel Peace prize winner, Professor Wangari Maathai, the first woman from Africa to win the peace prize and heads of states. Tom has served and chaired various boards including Global Minnesota (formerly Minnesota International Center), the sixth largest World Affairs Council in the United States. He has previously served as the first Black President of the Board of Directors at Books for Africa. He also serves on the boards of New Vision Foundation and the Minnesota Multicultural Media Consortium. He has previously served two terms on the board of the United Nations Association. An avid runner, he retired from running full marathons after turning 50 and now only focuses on training for half marathons.





(No Ratings Yet)


Loading...