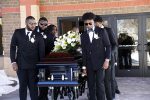 BROOKLYN PARK, Minn. – Hundreds of people filled the sanctuary of The Edge SDA Church on Sunday to honor and pay their respects to the Minnesota SDA Conference president Dr. Daniel Honoré, who was remembered as a fearless evangelist determined to win souls for Christ.
The beloved Adventist leader died Jan. 13, at 59.
The funeral service was attended by SDA Conference presidents from around the country, including the Northeastern Conference that Dr. Honoré led for nine years before coming to the Minnesota Conference last year, as well as the city's mayor – Hollies Winston.
The SDA leaders from across the country were led by Dr. G. Alexander Bryant, president of the North America division who also delivered the sermon.  Globally, the 22-million-member Seventh Day Adventist Church is organized into 13 divisions which includes the North America division. Individual SDA churches in a state or province – in the case of the US and Canada – are organized into a local conference, such as the Minnesota Conference. Those conferences in turn are grouped into local unions. The Minnesota Conference for example belongs to the Mid-America Union, which is under the umbrella of the North America division that Dr. Bryant currently heads.
A Master Guide color guard, led by Collins Maranga, escorted the casket into the church where almost every seat was taken and thousands more watched via livestream. By the time service started, the wintry morning had warmed up to one degree Fahrenheit.
A set of handheld bells, belonging to the Maplewood Academy handbell choir, lined the entire stage and served as backdrop to the powerful service.
Throughout the 3-hour plus service, SDA pastors from churches around the conference took turns standing guard by the casket.
Dr. Honoré's wife Fritze and four children sat together as leaders and friends spoke to their beloved's character and legacy.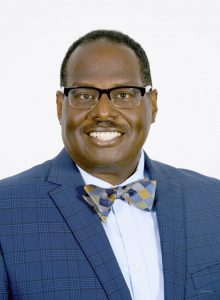 A recurring theme from speakers on Sunday was Dr. Honoré's dedication to ministry, and the many ways he used to win souls to the Kingdom of God over the years.
"He was very passionate about evangelism and Christian education, during his brief period here of four months Dr. Honoré visited and preached at about 10 churches across the state of Minnesota, including visiting Maplewood Academy," Pastor Eric Mokua, vice president for administration at the Minnesota Conference, said during the service.
Regarding Maplewood Academy, Pastor Mokua shared Dr. Honoré's vision was for the school, which is based in Hutchinson, Minn. – about an hour west of the Twin Cities- to provide an Adventist education to anyone who needed it without regard to cost.
His brother, Dr. Joel Honoré, gave some insight into their growing up years. He said many underestimated his brother in his early years.
"Yet Daniel was the first of us to graduate college, he also earned two bachelor degrees in less time than it took his younger brother took to earn one," said Dr. Honoré, as he praised his brother as a hard worker and a loving family man. "Just for the record, Daniel earned two doctorate degrees while his brother just earned one."
Dr. Honoré was eulogized by his four children who took turns reading the eulogy in the program that was handed out featuring a smiling face of their father in a checked blue suit and multicolored bowtie.
A great storyteller all-around, Dr. Honoré will be remembered for his frequent jokes and riddles just as much as his sermons, said Gamaliel Honoré, his oldest son. He was a true family man and seeing them use their gifts of music in church was his greatest joy.
His widow, Fritze Honoré, described her husband as someone who had a "tight connection with God."
"He wanted others to know of this great and wonderful loving savior in whom all of us lay our hopes. My husband was not sick. My husband was not sickly. My husband was not ill. He simply went to sleep and did not wake up," Mrs. Honoré told mourners.
Mrs. Honoré offered a glimpse into their marriage of 34 years.
"My husband loved me and I loved him," she said, going on to state that they were in constant communication with one another, whether through calls or texting. Earlier, Savannah Carlson, the human resources director at the Minnesota Conference read Psalms 23 during the service. She said Mrs. Honoré told her the psalm held a "special place in their family's hearts as they would often read it together in the evenings."
During the moving service, a montage of photos from Dr. Honoré's family and ministry life was shown on a video screen.
The service also included a short video of Oakwood University president Leslie Pollard offering condolences. All four of Dr. Honoré's children graduated from the historically Black Seventh-day Adventist university located in Huntsville, Alabama.
Pastor Sean Lee of Southview Church in Bloomington, Minn. sang a powerful rendition of "No More Night", whose lyrics include "No more pain. No more tears. Never crying again", to set the stage for Dr. Bryant's sermon.
The late Dr. Honoré had a leader's bearing, said Dr. Bryant. He recalled a trip by various conference leaders to Africa that was a way of "reconnecting with our roots" as a tremendous time of brotherhood that he will never forget.
Dr. Bryant elicited laughter when he said when they got to Kenya, Blasious Ruguri, the president of the East-Central Africa Division of Seventh-day Adventists upon seeing Dr. Honoré who towered over everyone else, promptly declared him the 'Chief.'
"I don't care what all your titles are but he is the chief," President Ruguri would tell members of the conference delegation pointing to Dr. Honoré.
"Dr. Honoré made an indelible impression upon this church and this world," Dr. Bryant said. "I would like to say to Gamaliel, Gabriel, Nathanael, Danielle and Fritze on behalf of the SDA Church, we thank you for the sacrifices you have made throughout the years in sharing your father and husband with this church, and the ministry that he has had and the impact he has had on the lives of so many. We are a better church because he passed this way"

Born and raised in Kenya's coastal city of Mombasa, Tom is the Founder, Editor-in-Chief and Publisher of Mshale which has been reporting on the news and culture of African immigrants in the United States since 1995. He has a BA in Business from Metro State University and a Public Leadership Credential from Harvard's Kennedy School of Government. He was the original host of Talking Drum, the signature current affairs show on the African Broadcasting Network (ABN-America), which was available nationwide in the United States via the Dish Network satellite service. On the show, he interviewed Nobel laureates such as 2004 Nobel Peace prize winner, Professor Wangari Maathai, the first woman from Africa to win the peace prize and heads of states. Tom has served and chaired various boards including Global Minnesota (formerly Minnesota International Center), the sixth largest World Affairs Council in the United States. He has previously served as the first Black President of the Board of Directors at Books for Africa. He also serves on the boards of New Vision Foundation and the Minnesota Multicultural Media Consortium. He has previously served two terms on the board of the United Nations Association. An avid runner, he retired from running full marathons after turning 50 and now only focuses on training for half marathons.





(No Ratings Yet)


Loading...