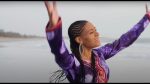 Sona Jobarteh and entourage take the stage at The Dakota March 20th. While the venue considers itself "a rare gem in the Twin Cities entertainment scene," in fact they are the strand and the gems are the performers.
Sona Jobarteh is one of those jewels, more than that, she is a solitaire diamond as she is the first female virtuoso kora player having interrupted the tradition of father-to-son tutoring when she was four years old.
Initially, it was her brother, Tunde Jegede, who introduced her to the kora. Eventually her father served as teacher and mentor, bucking a 700-year tradition that maintained an exclusively-male  collective of kora players.
In conversation with Sona Jobarteh, she explained the rich history of the kora and its place within the tradition of griots. The instrument of the kora along with all the other instruments that belong to griots: kora, balafon, the xalam, these instruments are typically griot instruments.
Jobarteh explained the dynamics of gender-based kora players. "Those are instruments that are played by men. It has a lot of cultural reasons why, which is not rooted necessarily in anti-female rhetoric, but it's more about understanding the roles of females and men culturally and historically.  I go into this in-depth when I deliver lectures on this topic," she said.
"The griot tradition is so strong that we don't have kora players in [the] general [public], that's not the norm. The norm is the kora is played still exclusively by griot families. It's an instrument that belongs to the griots."
This breaking away from historical convention both in gender and station is momentous.  "However things are changing, I'm part of that change. I'm very much an advocate for bringing non-griots into the world, playing instruments like the kora." said Jobarteh.
Jobarteh's progressive thinking led her to found in 2015 the Gambian Academy, an institution for children and dedicated to the social and economic development of the country. By utilizing culture as the means to educate its students, the Academy aims to empower the children to grow to be agents of social change.
Jobarteh seeks change as a natural progression, not a form of protest. "Evolving, not making a point about what is right or wrong but evolving tradition to match the evolution that is happening in society so that the traditions don't die," she said.
"Evolution is a way that is essential for traditions to stay alive just as these are living breathing things, culture, tradition, for me, it's something living. And humans, just as we change over time, traditions also have to change and adapt and evolve in order to remain present."
Jobarteh's show on Monday, March 20th promises to be intense. Jobarteh is fierce in her playing and in her expectations of self. "The music allows me to be seen and to be heard and to be listened to. To be in a position where I can speak to people about things that matter to me," she said.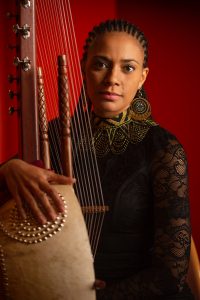 "This is really about my new album, [Badinyaa Kumoo] and each song has a clear message that it talks about and these are all the messages that are important to me in my life. Important to me in the sense of seeing myself as having a role to contribute call for change.
The message that I spread is not just women and girls being my message, I think that is just a very small snapshot of what I represent. And it's something that I'm fortunate enough to represent by being me."
All from deciding to pluck the 21 strings of a percussive-stringed instrument in 1987. The last time Jobarteh performed in Minneapolis, she was part of the Global Roots Festival at The Cedar in 2018.
Tickets for the 7 pm show are available at the Dakota website.
Editor's note: This story has been updated since its first publication to include responses from Jobarteh who spoke to Mshale after we had gone to press.
Susan is based in Minneapolis and reports on general assignments for Mshale with a focus on entertainment. In addition to reporting, she is also a writer, poet, teacher and coach.





(1 votes, average: 5.00 out of 5)


Loading...