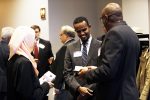 The Minnesota Department of Employment and Economic Development (DEED) on Tuesday announced the appointment of Abdiwahab Mohamed as Assistant Commissioner for Immigrant and Refugee Affairs, a position he has been holding on an interim basis since September 2022.
In a news release, DEED said Mohamed was chosen for the permanent role following "a competitive statewide application process."
Since taking up the position on an interim basis, Mohamed has been instrumental in writing DEED's budget requests and brought together state agencies to compile legislative proposals that impact immigrant and refugee communities, according to the release.
In Gov. Walz's final budget submitted to the legislature, the governor is requesting $1.5 million in each biennium to establish the "Office of New Americans." The office will focus on supporting immigrants and refugees in integrating into Minnesota society and also help employers connect with them.
DEED Commissioner Steve Grove said it is important to provide those newly arrived to the state with the opportunities to thrive as they "bring fresh perspectives, skills, and talent to Minnesota."
Over 50% of Minnesota's labor force growth between 2010 and 2020 was driven by immigrants, according to DEED.
"Abdiwahab has great experience working with Minnesota employers and with the immigrant and refugee communities in our state. He will build on work already underway to accelerate New Americans' full participation in Minnesota's economy," said Marc Majors the deputy commissioner for workforce development.
Also announced Tuesday is the elevation of DEED's current chief of staff, Elizabeth Frosch, to the position of Assistant Commissioner for Operations. She will start on March 16.
Before becoming DEED's chief of staff, Frosch was the agency's director in charge of strategic communications and research.





(1 votes, average: 5.00 out of 5)


Loading...