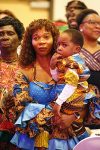 Ghanaian immigrants from all over Minnesota came together in the Twin Cities on Saturday to celebrate 66 years of their home country's independence.
The Ghana Council of Minnesota (GHACOM), a consortium of eight organizations of immigrants from the west African country, hosted the event at the Mounds View Community Center in Mounds View. Attendees listened to speeches, enjoyed entertainment, and feasted on jollof rice and other Ghanaian delicacies as they remembered the day their country became free.
"Ghana's story from day one has been inspirational," said Brooklyn Park Mayor Hollies Winston.
Winston, who was elected last year as the first Black mayor of Brooklyn Park, said that although he didn't believe as an African American, he was positioned to speak about Ghana, he could speak about the African diaspora. Ghanaians were the leaders of liberation in the African diaspora, he said.
"Your story resonates not just in Ghana and the African continent, but in America, too," Winston told Ghanaians.
Ghana was officially declared free from British rule on March 6, 1957, becoming the first nation south of the Sahara to gain independence from a European colonial power. The day is celebrated not only by Ghanaians in Ghana and abroad, but also pan-Africanists worldwide, who see the day as catalyst in the struggle to free the rest of Africa from European colonialism.
Kwesi Adofo-Mensah, the Ghanaian American who is the general manager of the Minnesota Vikings, spoke about his appreciation for his heritage. Since he was a child, Mensah said he had always been the odd one out, from being one of a handful of Ghanaian children at school to now being one of only seven Black general managers in the National Football League. Nevertheless, he said it was his heritage that "defines my existence."
"A lot of the times when you're young, you don't want to be different," he said. "You don't want to be the one whose name the teacher can't say correctly. But then you get to a certain age, and it just clicks."
Adofo-Mensah also spoke about his upbringing and how his family and community played an instrumental role in landing him where he is today. His parents would push him to strive for academic excellence, and he described his extended family as supportive.
"I always felt like I was a part of something bigger than myself, and I still feel that way today," Mensah said.
Emmanuel Oppong, the community engagement director of the city of St. Cloud's mayoral office, said it was imperative for local Ghanaians to celebrate independence together. Using Adofo-Mensah as an example, he said that Ghanaians in Minnesota displayed excellence. Overall, Oppong said he wanted to see Ghana and its people continue to be highlighted and celebrated.
"Our community brings so much to Minnesota and this country," Oppong said.
Elizabeth Takyi said that the event was a great way to get Ghanaians together. Over a plate of jollof rice, she described the joy she felt when she saw Ghanaians of all ages joining each other in celebrating Ghana's history. But she said that there was still tribalism that prevents the community from moving forward as one unit.
"I would like to see more of a spirit of togetherness among Ghanaians," Takyi said.
Community member Kwame Sefah said he was glad to see everyone who could make it to the event and wished community events like this one could happen more often. Sefah said many of the gatherings held in the Ghanaian community are funerals, and while he believed those were important to attend, he would love to have more joyful events to balance the pain.
"I would love for us to be able to bring people together in celebration more often," Sefah said.
Alexis Danquah said she attends the independence festivities every year. During the peak of the pandemic, she said that this got interrupted, so she appreciates the opportunity even more now. She said she hoped to attend as many in the future as she could.
"It's such a good chance to celebrate our people and our history," Danquah said.
Isaac Owens, who has been the president of the Ghanaian Association of Minnesota (GhanAM) for the last four years, said he'd like to expand efforts to advance the Ghanaian presence in Minnesota before the end of his term this year. He shared a list of his dreams and long-term goals for GhanAM. First, he said he'd like to begin building a Ghanaian community center to hold events such as the annual Independence Day event. He would also like to follow in the Kenyan community's footsteps and bring consular services office to Minnesota so that Ghanaians there do not have to travel to Washington, D.C. Finally, Owens said he would like to increase his involvement in Books for Africa, the nonprofit that sends books to African schools.
"These are all things I am passionate about," Owens said. "Even when I step down as president, I am still going to be involved because I want to see our community thrive."
Panashe is a general assignments reporter.





(1 votes, average: 5.00 out of 5)


Loading...