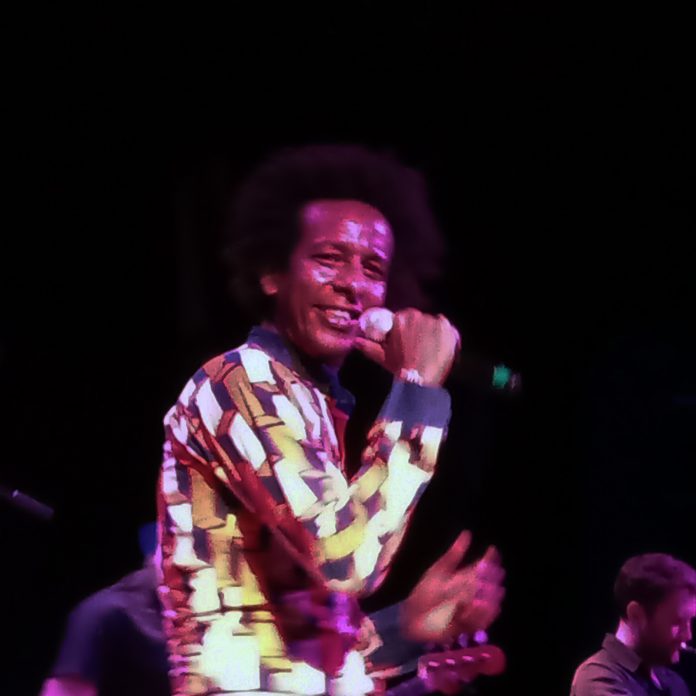 Gili Yalo, Ethiopian-Israeli musician, took the stage at the Cedar Cultural Center on June 1st along with his four-piece band and offered a buffet of music replete with international diversity. Many of the fourteen songs they played started with a distinct Reggae flavor then would shift into blues or jazz or Ethiopian dance music.
Understanding Gili's background helps shed light on his musicianship. Born in Ethiopia, living as refugees in Sudan, then carted off to Israel created a mishmash of sounds Gili heard growing up even when he pointedly did not want to hear some of them.
"I was running away from everything Ethiopian," he tells the audience in an effort to describe how he eventually came to play Ethiopian music and sing in Amharic. But avoiding his first culture's food and music and dress and culture became an anathema for him as he discovered he truly gravitated toward his own roots.
"To go toward the future," he summarized, "you don't have to forget your past."
They promptly played "Selam," sung in Amharic. Several people in the audience including some children begin to dance with their shoulders known as Eskista, a style of dancing endemic to Ethiopia and its neighboring country, Eritrea. At one point, Gili joins an eskista dancer, jumping to the floor, as they both shimmy their shoulders with tremendous skill.
Gili wears form-fitting trousers and lounge jacket both in a grey window-pane check. His button up, long-sleeved, jersey-collar shirt is a geometric design of orange, white, and blush colors. He struts, jumps, and hops about the stage wearing white sneakers and black and white checked socks.
Fashion on stage was also beautifully featured in the opening act by DJ Fawzi, the first Somali International female DJ. Fawzi worked diligently to warm up the audience that was initially sparse and subdued. But she persevered and eventually brought at least forty people to their feet with her mostly African set of vinyls. Only a quick tribute to Tina Turner diverted from an excellent range of African songs.
Forty-five minutes later, a crowd of nearly 100 people, mostly pre-sale ticket holders, are fully engaged, dancing, clapping, and attempting to follow Gili's call-and-response songs. Gili's sound is so unique and eclectic, it's addictive. It's unlike other genres because it's such an amalgamation of styles. He doesn't have a raft of horns, but a single trumpet player. He sings in both Amharic and English. Occasionally, Gili sneaks over to the piano to add some keyboard to the mix. There's a clear synchrony among the various bandmates.
For the encore of this 75 minute show, when isn't there an encore?, they play two numbers: Belomi and Addis Abeba Bete.
Gili says, "We don't need any borders…I truly believe we have so many other things to fight in this world, we don't need to fight one another."
Gili Yalo's set list on June 1 @ Cedar cultural Center
Tadese
Sew L'sew
Hayloga
Hot Shot
Sab Sam
Selam
Coffee
Yewyn Haregitu
Zelel Zelel
Ashkaru
Einsof
Fire
Belomi
Addis Abeba Bete
Susan is based in Minneapolis and reports on general assignments for Mshale with a focus on entertainment. In addition to reporting, she is also a writer, poet, teacher and coach.





(1 votes, average: 5.00 out of 5)


Loading...