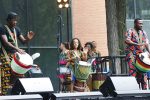 International Day of Music, hosted by Orchestra Hall with programming partners, BRKFST Dance Company, the Cedar Cultural Center, and City of Bells provided a platform for the rich diversity of artistic talent that exists here in Minneapolis and St. Paul.
On Nicollet Mall and 11th Street Saturday, July 15th, in the same space as Orchestra Hall, music from the Democratic Republic of Congo and Ukraine, Chile, India, Guinea, England, and  other countries could be heard.
Instead of violins and double-basses carrying the tune, vinyl records spun, sound machines queued, and djembe beats bounced off all the surfaces at Peavey Plaza.
Through the power of music and dance performed by representatives of each of these countries, Minneapolis hummed with an International voice. People in the audience danced, swayed, clapped, shouted, whistled, and jumped as they listened to music and watched dancing and drumming from 25 different countries over a twelve-hour span.
Of a trio of grey-haired or no-haired music aficionados who arrived early, two of them had never heard of the scheduled acts at the Atrium stage, but they trusted the sound to be exciting as they'd been attending this event for many years.
Renamed several times, International Day of Music marks the beginning of Orchestra Hall's summer season. As the Twin Cities has moved into a more cosmopolitan citizenry so has the festival's output grown more diverse and inclusive.
Dumont Doumbe, one half of the duo that comprises Douala Soul Collective, said they spin according to the vibe they feel from the crowd. Slotted into the morning session, the crowd was still waking up, yet there were a few dancers who used their smiles to invite others to join them as they grooved to the DJs' tunes.
While attendance was never shoulder-to-shoulder, it was up from previous years of the pandemic. This year, however, was hampered by air quality alerts, primarily impacted by the wildfires in Canada. Saturday's rating was yellow indicating a moderate air quality with an AQI  of 66. Some people wore masks out of caution against the pollution.
The skies were sunny with a haze and a strong breeze. In fact, an employee of Orchestra Hall sporting a coral-colored T-shirt as did most of the event workers and volunteers, deemed it windy enough to warrant the removal of the coveted umbrellas that offered scarce shade citing safety concerns.
Although this decision was not met with agreement from the audience, no one left especially since a miked voice suddenly called out, "Are you all ready to travel to Guinea West Africa?" Displaced people quickly found new spots to stand or sit and attention riveted to the Peavey Plaza stage where Duniya Drum and Dance Company began their performance.
"Music brings people together and music begins with the drum roll," the same voice shouts.
The heat of the day taxed many of the audience members, but despite a twelve-plus hour shift, at 10:30 pm, Robert Lehmann, Community and Grant-Funded Programs Manager of the Cedar Cultural Center, remained present and applauding the many performances.
At least 70 people sat in cushy seats of Orchestra Hall taking in Miloe and the Kabeyas, a local phenomenon that rose up out of the pandemic. Bobby Kabeya, founder and lead singer in the band, emigrated from DR-Congo at a young age. Most of his family, including his dad, Mike, and mom, Sylvie, were on stage enamoring the audience with original work save for Sylvie's captivating rendition of Miriam Makeba's Malaika.
Peavey Plaza and the Global Groove Stage provided space for outdoor acts. Inside Orchestra Hall, both the auditorium and the Target Atrium served as performance halls. In addition to the performances, vendors and food trucks filled both inside and outside spaces. Most of the food trucks were of Latin American fare. Indoors, vendors sold jewelry, skin-care products, and books all produced locally.
Susan is based in Minneapolis and reports on general assignments for Mshale with a focus on entertainment. In addition to reporting, she is also a writer, poet, teacher and coach.





(1 votes, average: 5.00 out of 5)


Loading...