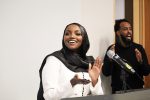 In 2019, 23-year-old Nadia Mohamed made history when she became the youngest person elected to the city council in the city of St. Louis Park. On Tuesday, Mohamed made history again, this time as the first Somali immigrant elected as mayor of a U.S. city, and the first Black mayor of the suburban city in the Minneapolis metro area. In her victory speech, Mohamed credited her mother for her win.
"She gets to go and watch her daughter legislate in the same building where she used to go to pay her public housing rent.," said Mohamed.
Mohamed won 58.45% of all cast ballots by registered voters, defeating her opponent Dale A. Anderson.
Mohamed first ran for elected office in 2019 and won a position as an at-large councilmember. She was 22 years old and a fresh college graduate. She attributed her political success to the St. Louis Park Human Rights Award, which she won in March 2019. She said she entered politics because she saw the need for voices like hers—a person of color, an immigrant, a renter, and a woman.
Four years on the St. Louis Park Multicultural Advisory Committee prior to elected office also provided her with the experience needed to lead with competency. The Multicultural Advisory Committee plans and implements efforts to connect various communities within the city.
Mohamed kicked off her campaign for mayor in May at the Westwood Hills Nature Center on May 31, the same place where she held her elections night watch party.
Incorporated as a village in November 1886, St. Louis Park grew from 31 people to a first-ring western suburb of Minneapolis with more than 50,000 people, 77% whom identify as white, 8% as Black, 5% as Latino, and 4% as Asian, according to 2020 U.S. Census Bureau data.
Mohamed attended Aquila Primary as a 4th grader, when she (at the age of 10) along with her mother and siblings joined her father in Minnesota. Mohamed continued in the St. Louis Park school system, graduating from the public high school in 2015.
She earned a bachelor's degree in human resources management from Metropolitan State University and is presently pursuing her master's in educational leadership at St. Thomas University. She works as a Diversity, Equity, and Inclusion specialist at a primary school in St. Louis Park.
While Deqa Dhalac, the mayor of South Portland, Maine, is the first Somali American to serve as mayor, she was first elected to the city council in 2018 before a seven-member board chose her to serve as the city's mayor in 2021.
Lynette Dumalag, who represents Ward 2 in St. Louis Park city council said she looked forward to seeing Mohamed bring her lived experience to her job as a first-generation, younger person who's a renter, "we don't hear very often in council chambers."
"I'm excited to see all the things we'll get to do as council with Nadia running the meeting advancing some of the values that we have as a city," Dumalag said.
Susan is based in Minneapolis and reports on general assignments for Mshale with a focus on entertainment. In addition to reporting, she is also a writer, poet, teacher and coach.





(4 votes, average: 4.00 out of 5)


Loading...