Monthly Archives: July 2005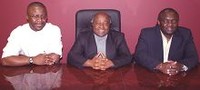 Say ABN to some of the targeted audience of this relatively new satellite network and you will draw a blank stare. That is about to change with the new marketing campaign and community outreach that the management has embarked on.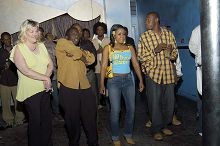 By eleven pm, DJ Kader has revelers dancing to a hot mix of African hits in downtown's Fahrenheit nightclub. This is the grand opening of the much-awaited 'Safari Lounge', an African monthly social event to be held on the last Sunday of every month.
One of Kenya's premier DJs, DJ Adrian made the third stop of his six-week Capital FM Kenyan Connection Tour in Minneapolis. The Minneapolis leg...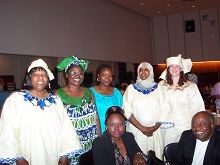 Outdoor temperatures soared to record-breaking levels Thursday, June 23rd. But the heat, held in check at the North Star Ballroom on the St. Paul campus of the University of Minnesota, did not weaken the enthusiasm or energy of Minnesota African Women's Association. T he grand finale soccer championship between Margibi county and Grand Bassa county that was organized by OLM, (Organization of Liberians in MN) did not produce a winner.