Monthly Archives: September 2006
Tanzania's President, (now Dr.) Jakaya Mrisho Kikwete, yesterday assured an audience assembled at the atrium of the University of St. Thomas' Minneapolis campus that Tanzania is the ideal destination for investors and tourists.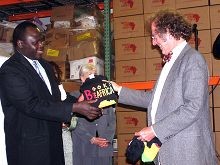 Books for Africa completed its move to a new spacious warehouse in Saint Paul's East side today with the official opening of the facility by Tanzania's Deputy Minister for Foreign Affairs and International Cooperation, Dr. Cyril August Chami.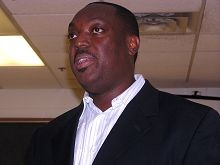 Mr. Izooba Mugabi is the new chairman of the Uganda Association of Minnesota (UGAMN). He emerged the winner after easily trouncing his only challenger, Mr. Francis Ssenoga, by garnering over 64% of the votes cast during a general assembly meeting to elect new leaders. All seats were up for grabs. Mr. Ssenoga is the current secretary general of the Uganda North America Association (UNAA).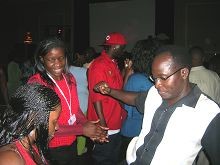 NEW YORK, September 3 - The ad on the Uganda North America Association's Web site was enticing. For $95 it promised this year's convention goers a luxurious cruise around New York with plenty of food and live performances by some of Uganda's most loved artists like Juliana Kanyomozi and Chameleon.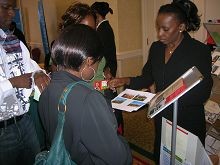 NEW YORK, September 2 - Pension L. Olerum is not Ugandan but that did not stop him from attending this year's Uganda North American Association convention in New York. The Greenville, S.C-based Nigerian businessman chose to attend the annual gathering of Ugandans because he heard good things about the country's real estate industry, he said.
NEW YORK, September 1 - When Marvin Baba looked through the door into the makeshift gallery at the the Uganda North America Association convention in New York, he thought he recognized the art. He had bought a few similar pieces of art but because the paintings were mostly on greeting cards, it never occurred to him that the artist would be big enough to warrant a gallery at the convention. Nightly updates from the 18th Uganda North America Association (UNAA) will be available on mshale.com starting September 1. The convention runs through September 4.
The open grounds on the campus of the University of St. Thomas along Summit Avenue in St. Paul were transformed into a scene of cultural extravaganza on Saturday August 12. The event dubbed Igbofest 2006 was one in which Igbo people from Nigeria resident in the USA and Canada entertained a large audience of guests with their rich heritage of African cultural activities. The 18th Uganda North America Association (UNAA) convention is underway in New York.
Mshale correspondent, Edwin Okong'o, is there and will be filing nightly convention updates.
The fight against the HIV/Aids scourge and the stigma that follows, more aid to slum dwellers and the war against corruption were Senator Barack Obama's main messages as he made his triumphant entry to Africa for a 15-day visit.
Bank of America, the nation's largest retail banking company, announced on August 23 that it's cutting its ties to the nation's top two money transmitters, Minneapolis-based MoneyGram International and Western Union.