Monthly Archives: April 2008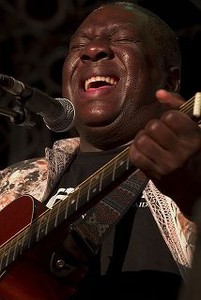 Vusi Mahlasela was only eleven years old when he was caught up in the horror of the June 16, 1976 Soweto Uprising, aptly also called Soweto Massacre, in South Africa.  It was that transforming event that weighed heavy on his heart and soul and every day since then as he's struggled with apartheid.
A global movement to end the abuse of women was the theme at the 13th annual International Women's Day celebration at the University of Minnesota, where women from all over Minnesota gathered in March to highlight their plight. There are so many important issues for the American people and politicians to pay attention to this election season. Sadly, many people are avoiding productive debate of those issues and are instead seeking to divide our nation along racial and religious lines. Last month women around the world celebrated gains they have made in the quest for equality. At an annual International Women's Day conference at the University of Minnesota it was evident that there is still a lot more work left to balance the scales. . One of the biggest crimes against women is violence at the hands of their significant others. The swiftest, fastest swimsuit in the world has recently been released. This is the result of a partnership between Rick Sharp, a professor of physiology at Iowa State University and Dr. Herve Morvan, a lecturer in fluid mechanics in the School of Mechanical, Materials and Manufacturing Engineering at the University of Nottingham. Just like adults, children and young people experience stress and anxiety as they adjust to a new culture. Mary and her son are similar to many new arrivals. They survived a civil war in Africa then lived in a refugee camp, before making a new home in Minnesota. Mary now works at a nursing home. Her son is in middle school, but was recently suspended for fighting. On March 10, the U.S. Citizenship and Immigration Services announced an 18-month extension of Temporary Protected Status (TPS) for nationals of Somalia through Sep. 17, 2009. If you use a car for business, you have two choices for claiming deductions: