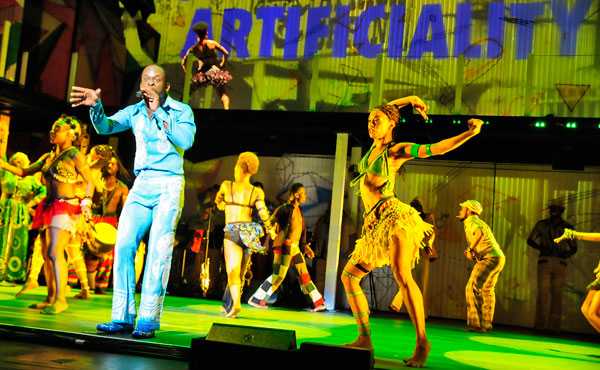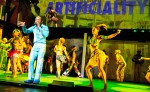 One thing I know for certain, I want to sit in that audience again and lose myself in the world of Fela Kuti, to hear jumbling, swarming notes that fall into place as if by magic, to watch the pelvis of each dancer gyrate as if it had a mind of its own, to be immersed in a time and place that thrills me instead of horrifies me only because I know it's not reality.
The Ordway in St. Paul presents Fela! every night until this Sunday. Next month the show will be back on Broadway. Opening night I sat eight rows back from the front of the stage. The set looked unusual for a professional theatrical production. As the actors entered the stage, it felt more like a music concert than a play.
I've seen both of Fela Anikulapo Kuti's sons who are also musicians, Femi and Seun, in their own concerts. In fact, Seun was here in Minneapolis as recently as April. I am accustomed to how concerts unfold.
The events on stage at the Ordway last night were so similar to a music show that it didn't surprise me when the band started playing and the dancers began to shimmy on stage and with definitive pompousness, the actor portraying Fela Kuti burst onto the scene.
We were informed that we were watching the last show at The Shrine, a private venue built in Nigeria, Kuti's country of birth. Over the next few hours, those of us who knew Kuti's story watch with heavy hearts, the rest of us with shock, to see the ordeal Kuti, his band, and his home endured at the hands of an out-of-control government.
And yes, the audience participated. We sang and talked back during some call-and-response scenes. We moved as if dancing. We replied with answers to questions that the lead character threw out into an audience of over 1000 people then listened to our replies. We were engaged with one another.
This musical about Fela Anikulapo Kuti was truly like no other. Sahr Ngaujah embodied the title role so completely, I felt as if Fela himself was there before me. I knew enough of Fela's life story that when Melanie Marshall as Funmilayo, his mother, appeared on stage, I began to cry. Impeccable casting.
For me, there was added depth because I've seen both Kuti sons in concert. Through the musical, Fela!, at the Ordway, I could  identify the layers of the sons development in their musical stage presence, articulation of instruments, and mesmerizing demeanor. It's laid out in detail in Fela!
We also saw the nearly incomprehensible drive that Fela himself possessed as he pursued musical mastery and social activism through his music. Most of us wouldn't even place ourselves in a position to be arrested for advocating for our beliefs, but Fela Anikulapo Kuti endured arrest 200 times.
The production at the Ordway was poetic. Through blinding light and shadow, we were placed right there in the horrors of governmental tyranny, the terror of a house raid, the pain in the loss of one's mother. I wasn't the only patron wiping my eyes or holding my breath in utter captivation.
I did experience a couple items that could be corrected. For myriad reasons, at times it was difficult to understand the lead, Gnaujah; better enunciation or finely tuned mic would help. And I'd appreciate if the Ordway added headshots of the stars and even ensemble in the program. The action on stage was so tumultuous and the lighting so varied that it was a challenge to peg some of the actors in their roles. They performed incredibly and I wanted to know each by name.
Performance Dates:
June 12 at 7:30 p.m.
June 13 at 7:30 p.m.
June 14 at 7:30 p.m.
June 15 at 7:30 p.m.
June 16 at 2 and 7:30 p.m.
June 17 at 2 and 7:30 p.m.
Ordway Center for the Performing Arts
345 Washington Street
Saint Paul, MN 55102
Ordway's Music Theater
Tickets start at $35 (including fees)
Ticket Office: 651.224.4222
Groups: 651.282.3111
ordway.org
Susan is based in Minneapolis and reports on general assignments for Mshale with a focus on entertainment. In addition to reporting, she is also a writer, poet, teacher and coach.





(No Ratings Yet)


Loading...