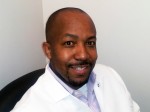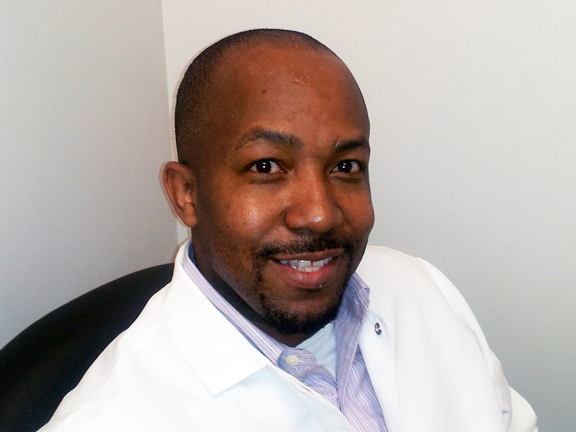 "My mission is to provide dentistry and help my patients keep their teeth as healthy as possible their entire life," said Dr. Chisom Nwokocha, who recently opened his clinic at the Northwinds Plaza in the city of Brooklyn Park.
When we visited, the clinic was on its second week and already the schedule was getting full with patient appointments. It is not hard to see why as the Northwinds Plaza is on the busy intersection of Brooklyn Boulevard and Broadway avenue, across the street from Rainbow Foods and kitty corner from the area's Acura dealership. It is one of the busiest commercial corridors in the city. Dr. Nwokocha was able to fit us in between patient appointments to visit with him and his staff.
Dr. Nwokocha, a graduate of Southwest High School in Minneapolis earned his doctorate of dental surgery in 2011 from the University of Minnesota School of Dentistry. He practiced for about two years in Minneapolis before deciding to open his own practice.
"Dental health is an often overlooked matter in our community and I felt operating my own clinic will help address those issues better," Nwokocha said. The myriad of health issues that affect the community and how they can be tackled seems to animate him more than anything else. In February, the Minnesota department of health released a first-of-its-kind survey conducted across 40 Minnesota ­public schools that showed 55 percent of third-graders surveyed by the agency had experienced cavities, compared to 53 percent nationally among children between 6 and 8 years old.
Low-income Minnesota children, according to that survey, were almost three times as likely to have untreated tooth decay compared to those from higher income families. Those preventable, untreated cases helped rack up $148 million in statewide emergency care charges between 2007 and 2010 for example.
Dr. Nwokocha says the issues highlighted in the Department of Health survey are even more pronounced in communities of color, many who call Brooklyn Park home. The city is also home to a growing African immigrant population.
"A lot of times our people wait until there are issues with their teeth before they see a dentist instead of doing preventive care which means seeing your dentist at least twice a year," Nwokocha said. He said the cost of dental care, especially for those without health insurance or not enough coverage, can be daunting but that if one engages in preventive care it is not as expensive as many might think. "One of the reasons I opened this practice was to also provide affordable dental care for the community," he said. In addition to providing flexible payment plans for those paying out of pocket his practice takes most forms of insurance.
"Besides, poor oral health can have many other health effects beyond just your mouth, and in our community we have many issues with gum disease and the like than can be very harmful to your overall health especially your heart," he said his voice rising with concern.
While attending dental school at the University of Minnesota, a professor of color encouraged him to consider practicing in the community because "no one else will if we don't," Chisom recalls the professor insisting. That advice from his old professor planted a seed and 'Today's Dental', the name of his new clinic, is the fruit.
The attraction to dentistry however goes way back to his childhood growing up in Nigeria. "I used to have a lot of dental issues as a child and had to have some teeth pulled at my dentist's house and the relief I felt after the initial pain was so good," Nwokocha says with a ready smile at the memory. "After those brief encounters with my dentist I decided this will be my career."
A few dental clinics dot the northwest suburbs of the Twin Cities but only a handful are owned by people of color. Dr. Nwokocha's practice opens at an especially critical time as some of the pioneers in the community like Dr. Larban Otieno, a Kenyan immigrant dentist in North Minneapolis, retire. Otieno for a long time was one of the few black dentists in the Twin Cities operating their own clinic.
Dr. Nwokocha said his practice would not have been possible without the help of his family and especially older brother, Paschal Nwokocha.
"There are so many other aspects to opening a business that don't have anything to do with dentistry, and he made sure I understood what was happening in the process (of launching a business)," said Nwokocha. The older Nwokocha is a long time Twin Cities attorney who has run a successful legal practice in downtown Minneapolis for years and is the former vice chair of the Minnesota and Dakotas chapter of the American Immigration Lawyers Association (AILA).
The older Nwokocha is every inch proud of his younger brother saying "It is uplifting to all in our community and positive for the young ones looking to diverse career options."
Chisom's disarming nature and love for his patients is what attracted Jacque Erickson, a Dental Assistant and eight year veteran in the field. She met Chisom at his previous job where they both worked. "He has a lot of passion for the field and just his compassion for his patients is a something that really impresses me," Erikcson said. Her respect for Dr. Nwokocha is what convinced her to leave her job of eight years at the previous clinic to join him in the new startup.
Erickson is a bubbly presence at the new clinic and she adds with a laugh that it helps that Mr. Nwokocha is as good to his employees as he is to his patients. She is the clinic's manager and was just recently joined by Nicole Rooney, a Saint Cloud Technical College graduate. Rooney will be the dental assistant.
The main lobby at Today's Dental has a large flat-screen TV next to the receptionist desk. The smaller waiting area belies the spacious treatment rooms in the back.
"I wanted to be sure we have state of the art facilities to provide great care to my patients," Nwokocha said. "They can expect the best when they come."
Today's Dental
7960 Brooklyn Blvd., Brooklyn Park, MN 55445
(Inside the Northwinds Plaza on Brooklyn Blvd. & Broadway Ave.)
Tel. 763-710-9937
Hours: Mon-Friday 9:00am-5:00pm Saturday 9:00am-2:00pm

Born and raised in Kenya's coastal city of Mombasa, Tom is the Founder, Editor-in-Chief and Publisher of Mshale which has been reporting on the news and culture of African immigrants in the United States since 1995. He has a BA in Business from Metro State University and a Public Leadership Credential from Harvard's Kennedy School of Government. He was the original host of Talking Drum, the signature current affairs show on the African Broadcasting Network (ABN-America), which was available nationwide in the United States via the Dish Network satellite service. On the show, he interviewed Nobel laureates such as 2004 Nobel Peace prize winner, Professor Wangari Maathai, the first woman from Africa to win the peace prize and heads of states. Tom has served and chaired various boards including Global Minnesota (formerly Minnesota International Center), the sixth largest World Affairs Council in the United States. He has previously served as the first Black President of the Board of Directors at Books for Africa. He also serves on the boards of New Vision Foundation and the Minnesota Multicultural Media Consortium. He has previously served two terms on the board of the United Nations Association. An avid runner, he retired from running full marathons after turning 50 and now only focuses on training for half marathons.





(23 votes, average: 3.78 out of 5)


Loading...