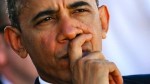 President Barack Obama, whose father was born in Kenya, will make the first major African tour of his presidency since taking office in 2009. He will be accompanied by First Lady Michelle Obama.
A statement from the White House said Obama will visit Senegal, Tanzania and South Africa, starting June 26 through July 3rd. His only other visit to Africa was when he visited Ghana for less than 24 hours in July 2009 on the way from Russia.
Obama will meet leaders from government, business and civil society "to discuss our strategic partnerships on bilateral and global issues", the statement said.
Former Presidents Bill Clinton and George Bush also visited Africa during their second terms in office. Clinton visited six countries while Bush went to five.
China has made inroads into the continent and there has been concern expressed by American business that the United States has lost ground as China tightens links with Africa. China overtook the US four years ago to become Africa's largest trading partner. Stephen Hayes, president and CEO of the Corporate Council on Africa, which lobbies for American business interests in Africa wrote an op-ed for US News & World Report last week titled "An Obama Visit to Africa Is Long Overdue."
Hayes went on to say "President Obama did not visit Africa in his first term. Africa was covered by Hillary Clinton twice, Joe Biden once and by the Acting Secretary of Commerce this past December. The number of countries touched by anyone in the administration can be counted with the fingers of two hands, with possibly a few left over."
China's top five leaders are in Africa every year according to Hayes and "as are the leaders of many other countries such as France, Brazil, Turkey and India, all of whom are investing actively in Africa. China's leaders have visited at least 30 African countries over the past five years."
The visit by Obama, coming on the eve of the birthday of the hailing Nelson Mandela is expected to make up for lost ground. Mandela will turn 95 on July 18.
"The president will reinforce the importance that the United States places on our deep and growing ties with countries in sub-Saharan Africa, including through expanding economic growth, investment, and trade; strengthening democratic institutions; and investing in the next generation of African leaders," press secretary Jay Carney said in a statement.

Born and raised in Kenya's coastal city of Mombasa, Tom is the Founder, Editor-in-Chief and Publisher of Mshale which has been reporting on the news and culture of African immigrants in the United States since 1995. He has a BA in Business from Metro State University and a Public Leadership Credential from Harvard's Kennedy School of Government. He was the original host of Talking Drum, the signature current affairs show on the African Broadcasting Network (ABN-America), which was available nationwide in the United States via the Dish Network satellite service. On the show, he interviewed Nobel laureates such as 2004 Nobel Peace prize winner, Professor Wangari Maathai, the first woman from Africa to win the peace prize and heads of states. Tom has served and chaired various boards including Global Minnesota (formerly Minnesota International Center), the sixth largest World Affairs Council in the United States. He has previously served as the first Black President of the Board of Directors at Books for Africa. He also serves on the boards of New Vision Foundation and the Minnesota Multicultural Media Consortium. He has previously served two terms on the board of the United Nations Association. An avid runner, he retired from running full marathons after turning 50 and now only focuses on training for half marathons.





(No Ratings Yet)


Loading...