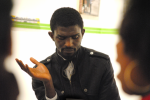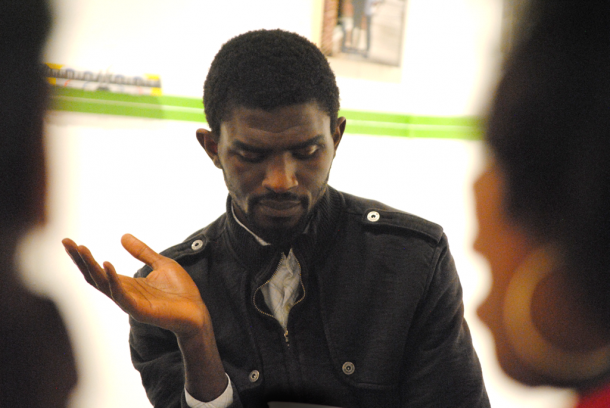 In a single breath, IBé can spill out over two hundred syllables. But to honor Gambia's 49th anniversary of independence, he's asking us to read only 17 syllables at a time in the form of a haiku poem.
Although born in Guinea and now living in the States for the past 23 years, IBé chose to shine a light on Gambia. A prompt at wooloo.org—a website for and by artists—impelled him to create a celebratory event observing Gambia's independence. There's nothing unusual happening in Gambia. Just like in England or Belize or Iceland, the people are living their lives and following their routines, which is the whole point of the recognition by IBé.
"I have issues with the fact that a lot of [white] people are first introduced to Africa because of tragedy," the spoken-word artist says. Africa's public image has been maligned by disasters and IBé wants to counter that sticky label.
Through HaikusforGambia.com, the stereotype of Africa will find itself in jeopardy. One or even four or five countries in peril cannot dictate the world's perception of an entire continent. IBé intends to erase the negativity. "News accentuates the bad," he bemoans, "but there are 54 other countries to consider."
The Minneapolitan poet decided on haiku because he loves the form. "It says a little, but means a lot," he notes, "It works like a megaphone amplified." He realizes that people might not have the patience to read a lengthy poem, but a short, three line, 17-syllable poem? That's enough to whet their appetite.
On the big day, February 18th, haiku written by 49 local artists and non-artists will decorate billboards along the freeways of 35 and 94 in both directions. The poems will also appear over radio, in newspapers, and plastered on the Internet searchable by #Haikus4Gambia. Forty-nine poets writing 49 different haiku about Gambia to celebrate Gambia's 49th anniversary of independence.  Keep your eyes open.
More info at Atlanticrock.com.
Susan is based in Minneapolis and reports on general assignments for Mshale with a focus on entertainment. In addition to reporting, she is also a writer, poet, teacher and coach.





(No Ratings Yet)


Loading...