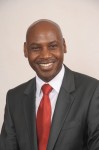 Mshale Editor's note:  Our reporter, Miriam Mongare, who penned this story is not related to Walter Mongare.
Kenyan media personality, Comedian, Actor and Singer Walter Mongare aka Nyambane has been appointed Communications Director for the populous Kisii County in Kenya. Mongare shot to the limelight as part of the Redykyulass trio that satirized the oppressive Moi regime.
In an email communication with Mshale Publisher Tom Gitaa, Mongare stated that part of his duties will be managing Diaspora affairs on behalf of the County although it was not clear what the depth of his managing will be.
Kisii County along with its neighboring Nyamira County is home to the Abagusii community which boasts arguably one the largest contingent of Kenyans in the United States. The community's nerve centers in the United States include New Jersey, Texas and Minnesota. In Minnesota, they constitute the single largest entity of Kenyans from one community.
The new Kenya constitution that ushered in a new system of government that "devolved" power to the new counties gave the latter the freedom to engage in bilateral dealings with foreign governments which some of the counties have gone about with much gusto. Many of the counties have also invested political and financial capital in engaging members of the big Kenya Diaspora community that hail from their respective counties in the belief that they can be helpful with ideas now that the counties and not the national government will be responsible for the provision of services and development initiatives.
Communication Director was a nearly non-existent position in the new county government structure that counties seem to have determined is important to their operations and have gone about creating them.
Given the energy invested by Kisii county in engaging the Diaspora community, Mongare being in charge of Diaspora affairs is of interest to the Kisii and Nyamira counties Diaspora community in the US. Both county governors visited the States in the latter part of last year to connect with those hailing from their counties.
Mr. Mongare's profile lowered somewhat after former president Daniel Arap Moi retired and he went into radio and TV along with consulting gigs before his latest appointment. He last visited the United States in October 2013 when he accompanied Sports, Culture and Arts Cabinet Secretary, Hassan Wario, on an official trip.
Mongare attended Kenyatta University in Kenya and is reportedly working to complete his degree from the institution.
Moiro Omari, Cabinet Secretary in charge of trade at Kisii County, told Mshale via phone that the cabinet looks forward to working with Mr. Mongare in his new capacity "He has years of media experience so we are looking forward to see what he can do for the county," he said.

Miriam is a general assignment reporter at Mshale.





(No Ratings Yet)


Loading...