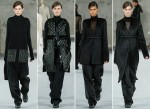 The Africa-focused clothing line founded by rocker Bono and his wife, Ali Hewson, has a fan in Chelsea Clinton.
Clinton, who works with the Clinton Foundation and the Clinton Global Initiative, chatted with the label's two visionaries Sunday night on the front row of Edun's fall runway show.
"I just have such tremendous respect for everything that Ali and Edun have created in their continued commitment to fabricating in Africa, which I think is so important," she said.
Does she think the fashion manufacturing base in Africa is strong enough for other companies to follow suit?
"Absolutely. I mean seven of 10 of the fastest-growing countries in most of the last 10 years have been in sub-Saharan Africa, so I think there is already vital fashion happening in Africa," said the daughter of former President Bill Clinton and former U.S. Secretary of State Hillary Rodham Clinton.
"It just hasn't penetrated to this side of the Atlantic. I think that with people like Ali and companies like Edun investing in Africa, it will not only help bring African-made products to American consumers but will also, ultimately, help African designers come to the United States."
Clinton called the collection in earthy colors of charcoal, camel and rust "absolutely gorgeous" and thinks it's in good hands with Edun's new designer, Danielle Sherman, who joined last year.
After a rocky start, Edun for the first time made 85 percent of its spring-summer clothes in African factories, primarily in Kenya and Madagascar, Sherman said. The company, intended to promote trade and create jobs in Africa, was founded in 2005.
The company's mission is not charity, she cautioned. "It's not handouts. Its core mission is to give people work. That's really the ethos." Key to success, the company learned, is to have staff on the ground in Africa working closely on the manufacturing end.
Aesthetically, Edun has honed its look. This time around, Sherman incorporated graphic elements through texture blocking and weaving. Other fabric manipulations produced hair-like and Astroturf textures, and she used faux fur.
"We really are playing with materials to build that youthful playfulness," she said. "There's a kind of art student feeling to it."
Part of that playfulness came in a woven herringbone in patent leather on a chunky-heeled boot, the result of a collaboration with Manolo Blahnik.
"We were really lucky to work with them," Sherman said.
Photos from the Edun line can be viewed here.





(No Ratings Yet)


Loading...