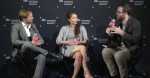 Editor's note: Virunga opens November 7 on Netflix.
When filmmaker Orlando von Einsiedel ("Skateistan: To Live and Skate Kabul") flew to the Congo to make a new documentary about mountain gorillas in the continent's largest national park, little did he know that a mounting civil war would yield a much more sprawling project with global implications.
The final result of the director's multi-year efforts is "Virunga," a powerful look at the fight to protect the titular park against poaching rebels and greedy British oil companies that plays more like an ensemble thriller than a traditional documentary. With the award-winning film set to open November 7 on Netflix, director Einsiedel and producer Joanna Natasegara sat down with Criticwire's Steve Greene at an IDA screening of "Virunga" in Hollywood to discuss the storytelling risks and emotionality behind the ambitious project.
Watch the interview clips on indiewire.com.





(No Ratings Yet)


Loading...