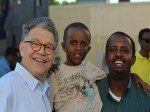 What do you do in your office as a United States Senator?
As one of your two United States Senators, I have been working hard to pass laws that help all Minnesotans do better. My office also works with Minnesotans who need help navigating federal programs and services, including helping Minnesotans who are having trouble with issues such as immigration, social security, and Medicare. It has been an honor to serve Minnesota for the past five years. I've worked hard and gotten a lot done, but we can't stop now. That's why I'm hoping to be reelected to another term this November.
What issues have you worked on that impact Minnesota's East African community?
In the Senate, I worked with Senator Klobuchar and Congressman Ellison to pass legislation to help make sure that Minnesota's East African community can send money to their families back home in East Africa. And during the 2011 famine in Somalia and the wider Horn of Africa, I used my position as a Senator to push Secretary of State Clinton to take all necessary actions to ensure that food assistance reached the millions of East Africans in need of essential survival assistance during the drought.
Minnesota's East African families regularly tell me how important developing a strong quality of life is, which is why I have pushed for affordable health care, investments in early childhood education and mental health in schools. And I'm working to increase the minimum wage, make college more affordable and provide job training so that all Minnesotans willing to work hard can achieve a good quality of life for themselves and their families.
What work have you done to help East African communities worldwide?
Members of Minnesota's East African community have told me time and again how important it is to keep families together; I could not  agree more, which is why I have worked to help East African families here in Minnesota bring their families members in need to the United States to be reunited, and to pass comprehensive immigration reform in the Senate.
I have also pushed the United States government to practice smart foreign policy that helps uphold human rights in Kenya and Ethiopia, and I have pushed for conditioned aid to Ethiopia to protect the Oromo people. I have also worked with Secretaries of State Clinton and Kerry for smart US-East African relations.
What has been your favorite event in the community this summer?
It's a tough choice between all the great events I have been to, like Somali Independence Day or enjoying games with community members at the Oromo Soccer Tournament, but I'd have to go with the Iftar dinner that we held with community leaders and Imams in July. I enjoyed breaking fast with many respected individuals in the East African community – some of whom hadn't seen each other for years – and spending time during Ramadan to reflect and discuss the issues that matter to all of us. And I can't forget the delicious food!
What can Minnesota's East African community do to support your work?
We're working hard to build a strong grassroots movement of support across Minnesota with our East Africans for Al group but we can't do that without you, and your family and friends. Please visit www.alfranken.com to learn more about my campaign and get involved. And don't forget to vote, whether that's early by mail or at the polls on November 4th.





(No Ratings Yet)


Loading...